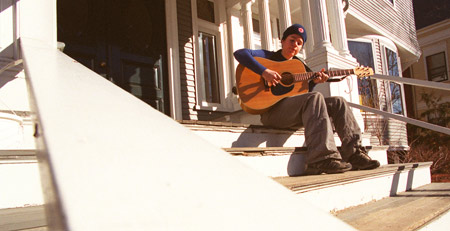 Dudley Co-op has an image problem.
Sure, there's a shrine to communism painted on a hallway wall, but a photo of Allston Burr Senior Tutor Thomas Dingman – a Harvard administrator, for Pete's sake – hangs beside those of Karl Marx and Chairman Mao.
OK, the food is home-cooked vegetarian, but isn't that a jumbo box of Cap'n Crunch beside the bin of granola?
And while Co-op members are well represented among Harvard's progressive political activists, residents insist that they are not, as reported in "The Unofficial Guide to Life at Harvard," eager to "stick it to The Man."
An intentional community
But frankly, the 30 undergraduates living in two rambling Victorians a half-mile north of Harvard Yard don't much care what others think of their living situation. They're far too content.
Owned by Harvard and watched over by Dudley House, the Co-op's off-campus location and its self-governance by residents unite town and gown for a unique living experience on the literal and figurative fringes of the University.
Dudley Co-op, founded in 1958 to provide alternative housing for low-income Harvard men, is a bargain, with students cooking dinners and cleaning up after themselves. Yet pinching pennies is only part of its appeal.
"It's mostly for people who want an intentional community," says Linda Cuckovich '02. "If it cost the same amount, I would still live here."
From her spacious corner room in "05," the building at 1705 Massachusetts Ave. and the smaller of the Co-op's two houses, Cuckovich cradles her cat, Matthew, and extols the virtues of Co-op life. "It's small enough that even one individual is important," she says. "The interactions I have here are so genuine. A really big reason I live here is the community.
"And we have free laundry," she adds.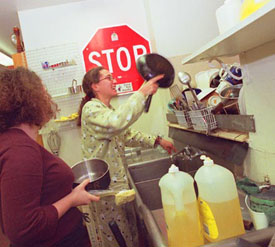 Around the corner, Co-op housemates John Bachman '02 and Vera Keller '03 give a proud tour of "3 Sac," the main house at 3 Sacramento St., opening bathroom doors and peering down hallways to reveal breathtaking architecture and whimsical murals painted by former residents. Behind a curtain of plastic beads is an alcove members call the "Den of Iniquity." In the living room, a student practices Rachmaninoff on the piano while a lonely fish circles in a bathtub aquarium.
Although Harvard maintains the two houses, they boast a funky originality that's a far cry from institutional. Keller shows off her palatial room, luxurious with its wall of windows and working fireplace lined with tiles. The house was once an inn, she says, bedding notables such as Theodore Roosevelt and Henry Cabot Lodge. Now, signs outside both buildings welcome visitors to the "Center for High Energy Metaphysics."
Don't spit in the soup
Downstairs at 3 Sac, dinner is served, as it is every night, at 6:30. About 15 residents file into the dining room, passing beneath a cooperative-living manifesto painted on the doorjamb: "Don't spit in the soup: we've all got to eat."
This evening's repast, an appealing if incongruous meal of Ethiopian lentil stew, French toast, and green beans, emerges from the Co-op's restaurant-sized kitchen. Chores like cooking, dishwashing, and housecleaning rotate among members, and tonight's cooks are showered with spontaneous applause.
"Food is central here," says Alex Kaufman '03. Co-op members purchase food in bulk from a natural foods distributor and from a produce vendor who visits weekly; the vegetarian menu is brimming with organic produce and fresh-baked bread.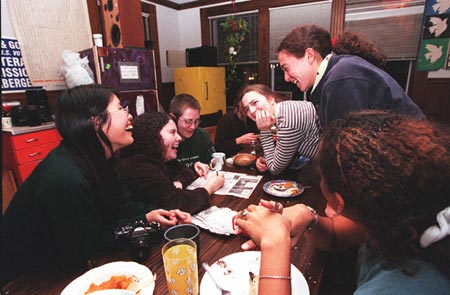 'The constantly psychedelically shifting Co-op'
In a small office behind the living room, several file cabinets defy the Co-op's laid-back tendencies with an attempt at organization and historical documentation. The "Sutra," which Kaufman calls "the bible of the Co-op," records some of the operational details of the household. "Like the constantly psychedelically shifting and changing Co-op, the Co-op Sutra is a living document," reads the introduction.
"There's a certain amount of camp to all of this that's lost on some people," says Kaufman. Still, he says, "my guess is that there was a time when people took the communism thing more seriously."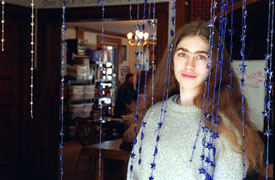 While communist principles may have disappeared from the Co-op around the same time as pervasive drug use and the infamous naked dinner parties, members cling to some traditions. Thanksgiving dinner, a Halloween night affair complete with turkey, celebrates the community spirit of the house. And the annual Lingerie Study Break, the Co-op's answer to Primal Scream, finds Co-op members performing a slow striptease for finals-harried students in the stacks of Lamont Library.
Anna Duhon '03 provides a living link to the Co-op's storied past: her parents lived there in the late 1970s. "It was the only place they could shack up," she says.
Entering Harvard, Duhon had no intention of continuing the Dudley Co-op legacy. "I really didn't want to repeat a family story," she says. After a year in the dorms, however, she found the pull of the Co-op too strong to resist, so she now dodges her parents' shadow to forge her own way.
A unique path through Harvard
As with Duhon, Dudley Co-op tugs at students for whom the houses aren't a good fit. Some, like Keller, are transfer students who, she says, "weren't born into the idea of houses. Transfers tend to be people with a lot of independent spirit."
Others, including Cuckovich, Kaufman, and Bachman, had taken time off from their studies and returned to find themselves not quite fitting in to "conventional" Harvard life. "These are people picking their own path through a Harvard education," says Kaufman.
Whatever leads them to join the Dudley Co-op, members as well as alumni credit the unique living situation with their Harvard happiness. "Having moved into the Co-op was probably the single decision I made that improved my Harvard experience," says Bachman.