It was the first weekend signaling the coming of spring and what better way to spend it than shooting a film. On a balmy Saturday (March 9) followed by a crisp Sunday, a crew of 13 and a cast of five principal actors and seven extras assembled at the Busa Farm in Lexington to shoot the short film "Scratching the Surface," one of the eight short films that will premiere at the Third Annual Dudley House Film and Video Festival.
Since September, Dudley filmmakers have been hard at work writing, directing, and editing their own films about a wide variety of topics including local history, divorce, artistic frustration, incontinence, and religious and political strife.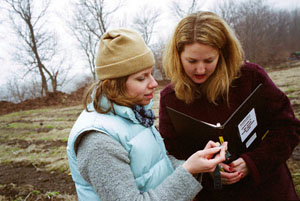 "Scratching the Surface" is about first impressions and misperceptions. While Samantha (Michelle Franklin) waits in line for concert tickets with other dedicated fans in the middle of a rural field, she is insulted and mistreated by Romeo (Khana Daniel Jones). Seemingly, Claire (Evelyn Carrigan), who is in line ahead of Samantha, comes to her rescue. But all is not as it seems in this clever short film with a twist written and directed by Harvard Law School graduate Robert Johnson, HLS '99.
"People tend to make assumptions and snap-judgments about one another," says Johnson, "rather than being patient, listening, and trying to truly understand each other. The film explores how this tendency can be dangerous."
In shooting "Scratching the Surface," Johnson teamed up with cinematographer Rafi Landau to create the appropriate mood and look for the film. Landau is a local cinematographer who shot the feature film "Dance by Design," as well as another short that will screen at the Dudley Film and Video Festival: "Same, Same But Different." Johnson was also assisted by sound recordist and colleague Doug DeMay, a 1994 Harvard college graduate who also works as a lawyer; assistant director Michelle Cordray who has taught screenwriting at the Dudley Film and Drama Program; script supervisor Christine Kerrigan; and key grip Owen Foye.
Johnson cast his film by advertising for local talent on www.newenglandfilm.com. Director and cast rehearsed for two weekends before shooting the film.
Shooting began on Saturday with a 6:30 a.m. crew call and ended on Sunday when Johnson announced, "That's a wrap," at 3:30 p.m. The cast and crew were well nourished by generous donations from local eateries. Besides some intense sunburns and a near loss of location on Sunday, the shoot went off without a hitch and Johnson finished the weekend with 2.5 hours of footage for his 10-minute movie in the can.
"Scratching the Surface" along with the other Dudley Films – as well as submissions from outside the Harvard Community — will be shown May 10-12 at the Third Annual Dudley Film and Video Festival. Tickets may be purchased by calling (617) 496-2222. For more information about the festival and the Dudley Film and Drama Program, visit http//go.to/dudleyfilm.
Valerie Weiss is filmmaker in residence and founder of the Dudley Film Program. She received her Ph.D. in biochemistry from Harvard in June 2001. Weiss is currently finishing postproduction on her film, "Dance by Design."