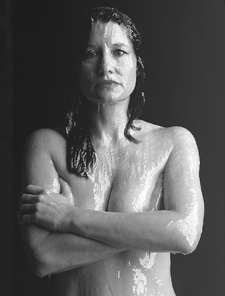 Performance artist Karen Finley has smeared herself with chocolate, painted with her own breast milk, put Winnie the Pooh in S&M gear, and locked horns with conservative Sen. Jesse Helms.
At a lecture at the Carpenter Center for the Visual Arts on Thursday (Feb. 7) titled "The Body as Rorschach Test," Finley kept her clothes on. But her lecture nonetheless shocked, titillated, and inspired with humorous, heartfelt tales of Finley's life and struggles intercut with slides, videos, and performances of her work.
A New York-based performer, author, playwright, and director, Finley probes themes of the body, sexual abuse and violence, AIDS, suicide, female sexuality, and American politics. While she has received significant critical and popular acclaim within the art world, it was her 1993 free speech battle with Jesse Helms, the National Endowment for the Arts, and ultimately the Supreme Court that brought Finley to a wider audience.
In a lecture that meandered from personal stories to political rhetoric to artistic demonstration, Finley returned repeatedly to her experience as a "hero for free speech." In 1990, Finley was among four artists whose grant applications to the National Endowment for the Arts were vetoed because the content was considered inappropriate. The artists sued and won their case for reinstatement but ultimately lost a Supreme Court appeal. The result was that the government could restrict funding based on "decency standards."
Finley admitted that she was blindsided by the opposition to her work, never expecting, as a young artist, that her work would become "a national dilemma," she said. Her public battle for free speech, which brought personal attacks and death threats as well as renown, keeps her on edge to this day.
"The reason I think that I volunteered for that job [as a free speech advocate] in that moment was because of my naivete," she said.
The themes of Finley's work spilled into her reflection on her time in the political spotlight. "When I finally realized that Jesse Helms was actually having a public sexually abusive relationship with me and I kind of volunteered with this, I changed the relationship and I think that I've been healthier ever since," she said.
"Oh wow," she added, as if momentarily stunned by her revelation. It was one of several confessional moments during her talk; at another point, describing her art's relationship to her mother, she paused. "That gets me emotional right now, thinking about that," she said. During a performance of a poem, she stopped short, saying, "that's enough for right now."
The chocolate-smeared woman
Finley discussed the piece that was the flashpoint for her suit, the 1989 performance "We Keep Our Victims Ready." She took her inspiration from Tawana Brawley, the 16-year-old who was found alive in a Hefty bag covered with feces near her home in upstate New York. Finley was moved when Brawley was accused of perpetrating this act herself. "Was this the best choice? What was the worst choice? What was the other choice?" she said of Brawley's apparent desperation. "All of us have that moment where puttin' the shit on us is the best choice we have."
At the end of the piece, after smearing herself with the feces-symbolic chocolate, Finley covers herself with tinsel because, she said, "no matter how bad a woman is treated, she still knows how to get dressed for dinner."
Finley read a piece from the performance that she billed as "about love." In twisted wordplay and strong poetry, the reading conveyed confused, angry, tortured love. "I shot myself because I love you. If I loved myself, I'd shoot you."
Pushing the boundaries
Raised in a suburb of Chicago and educated at the San Francisco Art Institute, Finley is the daughter of a mother she described as "not white" and a father who was a manic-depressive jazz musician who eventually committed suicide. "I have used that information in my art-making I think very well," she said. "I had to get out that emotion somewhere."
She discussed several other works that amplified the title of her lecture. One video showed Finley at work in a studio, surrounded by paintbrushes and other tools. Instead of using them, however, she pulls her breast out from behind her apron and "paints" on a black page with her breast milk, growing increasingly animated and ultimately using both breasts.
Another piece features large, close-up photographs of her daughter's birth surrounded by Post-it Notes of quotes by the practitioners who assisted the drug-free delivery of her 9-pound baby. "I couldn't believe that people were telling me to relax," she said. "This was the most dismissive piece of crap I ever heard."
Other work is provocative in a more political way. Her installation "Memento Mori" and the sculpture and poem "The Black Sheep" were both inspired by grieving for friends of hers who died of AIDS in the mid-1980s. Another work demonizes male stars of the art world, as Finley put their work under plate glass then wrote her running internal commentary over them. Atop a photo of writer William S. Burroughs, she scrawled "You are no hero to me, you shot your wife."
Constantly reflecting on her work's impact, Finley noted that she managed to upset groups far to the left of Jesse Helms, from gallery managers to the National Organization of Women, which rejected her "The Virgin Mary Is Pro-Choice" design for a T-shirt. "Within politics there is a boundary," Finley said. "I found that boundary."