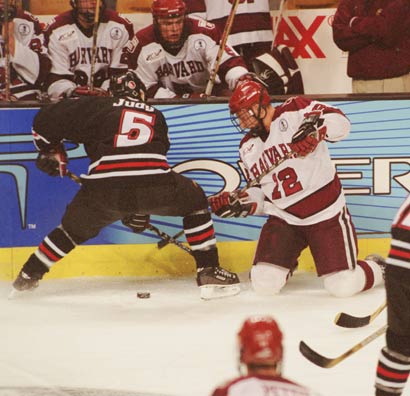 Just 14 seconds into the first power-play situation in the first period of the first round of Monday's Beanpot Tournament, Northeastern's Mike Ryan slapped a shot past Harvard goalie Dov Grumet-Morris '05. It wouldn't be his last. The Huskie forward went on to earn a hat trick in the 50th playing of college hockey's most mythical tournament, helping to down a never-quite-got-it-going Crimson team, 5-2 at the FleetCenter.
With the loss, Harvard dropped its third consecutive game, while securing a one-way ticket to this coming Monday's consolation game against Boston College. Harvard last advanced to the championship round in 1998, winning it all five years prior.
The Crimson erased the 1-0 deficit at 3:25 of the second period when freshman Brendan Bernakevitch popped the puck past goalie Keni Gibson off a pass from fellow frosh Tom Cavanagh. And though the remainder of the period was essentially played at the Huskies' net, the Crimson team was unable to take the lead, falling victim to poor puck control and Gibson's sound netminding (22 saves for the night).
Northeastern took a 2-1 lead seven minutes later when a harmless-looking shot-on-goal, partially deflected by Grumet-Morris, managed to skirt its way into the net. Following the one that got away, the tone of the game was never the same. A flurry of goals by the Huskies, including two more from Ryan to complete his hat trick, found the Crimson buried 5-1 in the final period.
Late in the third, Harvard notched its second goal of the game when forward Kenny Turano '04 fired the puck between the pipes for his first tally of the season. Tied for second place in the ECAC, Harvard plays Vermont tomorrow (Friday, Feb. 8) at Bright Hockey Center before facing off against B.C. for Beanpot bragging rights.