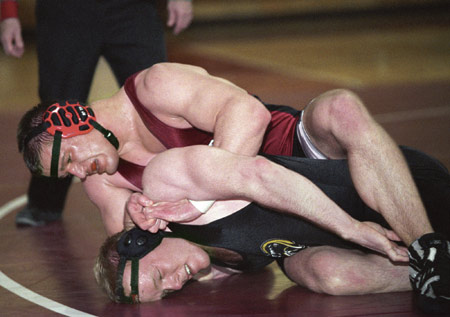 The defending Ivy League champion Harvard wrestling team split a pair of homestand meets this past weekend (Jan. 26-27), downing Army 29-10, while losing a 21-20 decision to Eastern Intercollegiate Wrestling Association (EIWA) powerhouse Lehigh. The Crimson, who also hold last season's EIWA title, stand at 2-3 in dual meets and 1-1 in the EIWA.
Army took an early 3-0 jump in Saturday's meet after junior cadet John Paxton defeated Harvard freshman Jonas Corl 8-2 in the 197-pound bout. The Army edge was to be short-lived however, as the Crimson team responded in capturing seven of the remaining 10 contests. Senior heavyweight co-captain Dawid Rechul, last year's Most Outstanding Wrestler at the 2001 EIWA Championships and currently ranked second in the EIWA, beat Thomas Anderson in an 8-1 decision. Then fellow co-captain Kevin El-Hayek '02 – ranked No. 1 in the EIWA's 133-pound division – took a 4-0 victory over T.J. Grider.
Though the Black Knights later pulled to within 16-10, Army's hopes of regaining the lead were decidedly dashed when Harvard's Pat O'Donnell '03 pinned Ron Schroeder in the second period of the 165-pound event. O'Donnell's pin – the sole peg of the day – gave Harvard a 22-10 advantage, setting the stage for the eventual 19-point win.
After another fine outing by the Crimson against second-ranked Lehigh, including impressive repeat performances by O'Donnell, Rechul, and a recorded pin by Harvard's Jon Mankovich '05 in the 141-pound bout, Sunday's heartbreaker came down to the last match. In the absence of Harvard's Reggie Lee '03, who suffered an injury a day earlier against Army, Lehigh's Rob Rohn – ranked sixth in the nation – recorded a 20-5 technical fall against Harvard's Brandon Kaufmann '04 in the 157-pound match. Rohn's heroics lifted the Mountain Hawks past the Crimson by one point.
The Crimson return to the mat this Saturday (Feb. 2) against hosts Sacred Heart and Hofstra.