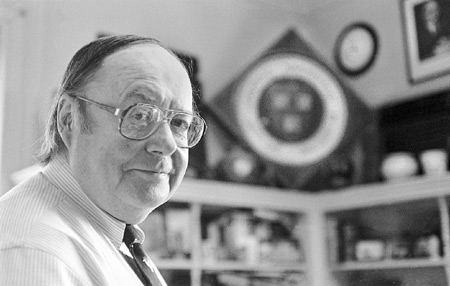 William Clinton Burriss Young '55, formerly associate dean of freshmen in Harvard College, died in Cambridge on Jan. 8 after a long illness. He was 68 years old.
For more than 35 years, as a proctor in Massachusetts Hall, assistant dean, and associate dean, Young guided successive cohorts of incoming Harvard undergraduates, helping many of them to survive their first year in and around the Yard.
"It may sound simplistic to say we will never see another like him," said Dean of Freshmen Elizabeth Studley Nathans, "but that is in fact true. He devoted his life to this institution, and we are all – students and colleagues alike – diminished by his death."
Former Dean of the College L. Fred Jewett, who worked with Young as a freshman adviser in the early 1960s, said that "in the last 30 years, there has been nobody I know who cared more about or worked more closely with Harvard undergraduates than Burriss. He was an extremely thoughtful and compassionate guy whose whole life revolved around his work with students."
Young was born in Baltimore on May 19, 1933, the only child of Helen Burriss Young and Francis Hastings Young, a professor of medicine at Johns Hopkins University who had been blinded by mustard gas in the First World War. Francis Young died when Burriss was still a boy attending Saint Paul's School, Baltimore.
After graduating from Harvard College in 1955 with an A.B. in fine arts, Young went on to earn a master's degree in that field the next year, and taught for a year at Brown. He then spent five years teaching English at his old school, Saint Paul's.
During the summers of 1960-63, Young ran the field laboratory at the Sardis excavation in Turkey under George Hanfmann, the former Hudson Professor of Archaeology and curator of ancient art at the Fogg Museum.
"Burriss was an absolutely key member of the Sardis Expedition during those years. He was an extraordinary person who was much loved by everyone including the Turks," said David Mitten, the James Loeb Professor of Classical Art and Archaeology, who first knew Young as a co-worker at Sardis and remained a friend through the succeeding years.
"He probably did more good things quietly for Harvard students than anyone else in Harvard history," Mitten added.
Regarding his early work in art and archaeology, Young once told a friend: "I always meant to get my Ph.D., but other things kept coming up."
The "other things" related primarily to his position as a freshman proctor beginning in 1962 under then-Dean of Freshmen F. Skiddy von Stade.
Young made himself available to students and friends at all hours, and his suite of rooms in Massachusetts Hall became a haven for many who were muddling through their first months away from home, dealing with difficult decisions, or just looking for good conversation.
Those who visited Young's rooms remember a profusion of objects that had been acquired or received as gifts, including pieces of classical art, African masks, Eskimo carvings, 19th century American paintings, medieval armor and weaponry, old photographs, and objets de vertu of all periods and styles. Some of the collection eventually found its way to Young's cottage in Sagamore Beach on Buzzards Bay, Cape Cod, where he went with his seemingly ageless dog, Tizzy, whenever weather and schedule permitted.
In 1972, Young was appointed associate dean of freshmen "without limit of time" by then-Dean of the Faculty of Arts and Sciences John T. Dunlop. He served in that capacity until his retirement in 1998, and thereafter continued in the Freshman Dean's Office as a volunteer consultant on a number of projects.
Among his many efforts involving Harvard Yard was one he undertook in the 1980s, in which he produced the first complete list in modern times of all the occupants of each Yard room, entered chronologically. Students were amazed and delighted to learn that the room they were living in, for example, had housed young David Henry Thoreau (he reversed the names later in life) 150 years before.
For years Young served as the administrator of the "Coat Fund," which had been established by a Harvard donor decades earlier to ensure that students without sufficient means – and often from a part of the country or the world where snow and ice were unknown – might be adequately clothed against the New England weather. In carrying out this responsibility, as in many other cases, Young was alert to need but never intrusive.
"Burriss managed to bridge all sorts of gaps with patience and good humor," said Geoffrey Movius, the deputy director of capital giving in the University Development Office. "He loved a good meal, good talk, and a good laugh with all kinds of people, young or old. He was, above all else, a loyal friend to many whose Harvard experience was often profoundly changed by his quiet attentiveness and sound advice."
There will be a memorial service on May 12 at 3 p.m. in Harvard's Memorial Church. It will be followed by a reception in Annenberg Hall in Memorial Hall.