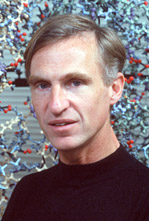 Professor Don C. Wiley, John O. Loeb Professor of Biochemistry and Biophysics, has been reported missing by the Memphis, Tenn., police since Nov. 16.
Wiley, in Memphis attending a board meeting of the St. Jude Children's Research Hospital, was last seen the evening of Nov. 15. His car was discovered the morning of Nov. 16, parked on a bridge over the Mississippi River. Memphis law enforcement officials report no evidence of foul play.
FBI officials are monitoring the investigation, and Harvard remains in daily contact with law enforcement members. Wiley, a pre-eminent structural biologist, has conducted key research on the structure of viruses and proteins in the human immune system.
In 1999, Wiley and Jack Strominger, Higgins Professor of Biochemistry, won the prestigious Japan Prize for their discoveries of how the immune system protects humans from infections. In 1995, Wiley and Strominger won Albert Lasker Medical Research Awards for their work on the immune system.
A $10,000 reward for information related to Wiley's disappearance has been made possible by contributions from Harvard and St. Jude Children's Research Hospital.