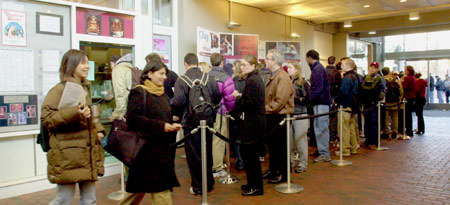 The Harvard Box Office did a brisk business this week in free tickets to President Bill Clinton's address at the Gordon Track and Tennis Center Monday, Nov. 19. On Tuesday (Nov. 13), the first day the tickets were available to Harvard students, faculty, and staff, a line snaked through the Holyoke Center lobby and out the door until early afternoon; by the end of the day, more than 2,000 tickets had been distributed. By Wednesday night, only about 200 tickets remained, all slated for undergraduates.
In his speech, Clinton is expected to reflect on globalization and public service in light of the Sept. 11 events. "I hear he's a wonderful speaker," said John Sheu '04 as he waited in line for a ticket. "I grew up with his administration. I think it will be an incredible experience to hear him speak."
Clinton's address, sponsored by the Institute of Politics (IOP) at the Kennedy School of Government, is open only to those with a ticket and a Harvard ID. Security at the event will be very tight, said Gordon Li, spokesperson for the IOP, and the Secret Service will not allow any bags or backpacks into Gordon Track.
– Beth Potier