Harvard is singing. And playing. And rehearsing. Every corner of every building that can be pressed into service hums with melody. Even Jack Megan, the new head of the Office for the Arts, discovered he has to share his Common Room with Tom Everett's Jazz Band practices once a week.
Everyone's making music: Korean drumming, musical comedy, Apollo Night, electro-acoustic music, chamber music, women's groups, community service groups, THUD, and Gumboots – if there's a beat to it, Harvard's got it.
Jameson Marvin, director of choral music, counts 450 performances annually at the college. Musical activity, Marvin says, has increased threefold in the 24 years he's been here. A generation ago, there were two orchestras and one a cappella group; today there are six orchestras, four bands, and 13 a cappella groups. There's a floating population of 1,000 musicians or more, ranging from the Harvard-Radcliffe Orchestra's 110 members to the 80-year-old band, the Bellringing Society at Lowell House, the lunchtime organists at Busch Hall, and the lone pianists taking private lessons and practicing at Paine Hall.
"Harvard is a surprising place," says Jen Myung '02, co-president of the Brattle Street Chamber Players. "The people I've worked with at Harvard possess this pure, unbridled passion for music."
Institutional support
Marlyn McGrath Lewis, director of admissions, says Harvard admits more musicians these days: "Music is a surrogate for extraordinary drive, energy, ambition, dedication – qualities we look for." Twenty percent of the students now admitted to Harvard choose music as their extracurricular interest, according to McGrath Lewis.
"In the tough admissions decisions, music counts," she says. "We are looking at people. Music is somewhere resonant in the room where the big committee meets. We really care most about people who will enrich each others' experience."
She gives credit for the quality of Harvard's musicians to two things: Harvard's reputation as a great place to do music, with many opportunities to participate; and the Music Department's input, where James Yannatos, Murray Forbes Somerville, Tom Everett, and Constance De Fotis spend many hours listening to prospective students.
Marvin, who conducts the Harvard Glee Club, the Radcliffe Choral Society, and the Collegium Musicum, says to high school students, "If you're coming for an interview, if you're in the neighborhood, come up and sing for me." He is looking for ear, pitch, and sight-reading ability. "Not voice," he says. "The voice always improves." Every other year Marvin takes a choral ensemble to the American Choral Directors Association, which has 20,000 members. "We've been seven times," he says. "The word is out."
The Office for the Arts
The creation of the Office for the Arts (OFA), in 1974, is also a huge factor in the growth of the musical (and other) arts at Harvard College, according to Marvin. The OFA acts like yeast in bread, providing grants for undergraduates' projects, giving scholarships for music lessons, and inviting artists to campus. The OFA also publishes Practice and Performance, a yearly guide to the arts at Harvard, and Arts Spectrum, a monthly newsletter. It oversees Arts First. It runs CHIPS, a training choral program, and master classes for the Piano Society. The OFA manages Sanders Theatre, Lowell Hall, and many smaller performance venues, and contributes professional production and management skills. It arranges ticket sales and publicity through the Harvard Box Office. Among director Megan's future plans is a universal calendar Web site, to keep track of the performances on campus – they sometimes run to three a night.
New musical needs
One pattern in growth has been the formation of smaller groups from the membership of bigger ones. The Brattle Street Chamber Players, for example, was founded in 1998 by 13 members of the Harvard-Radcliffe Orchestra who wanted the experience of a conductorless string orchestra. According to Eric Wong '02, the co-president, "There is not one appointed decision maker on musical ideas and expressions. We have no conductor, no concertmaster, no principal violist. Seating is switched around for each piece so that each person gets a chance to lead and follow, and during rehearsal, comments are welcome from everyone."
Peter Lorenzo Anderegg '04, one of the cellists, who has often played with symphony orchestras, says, "It's an extension of chamber music, following and reacting. The lead instrument sets the tempo, the players watch each other to 'lock in.' It's smaller, that makes it exciting."
Francesca Anderegg '04, a violinist, who is Peter's twin sister, also plays with the Brattle Street Chamber Players. Her goal is to be a professional musician, unlike the vast majority of performers at Harvard. The desire to do music full time as well as to get a broad education is a real dilemma for her and others like her. This is the flip side of being a superb and dedicated musician at Harvard.
"If I really want to do music well, there is only so much I can do in a day. I knew it would be hard," she says "I'm glad that I came, though – it's worth being here just to be exposed to the people here." Francesca is considering taking a year off to go to a conservatory. She says, "It's different for people who want to be musicians – in a conservatory, the administration supports you. Here, your peers support you."
A search for identity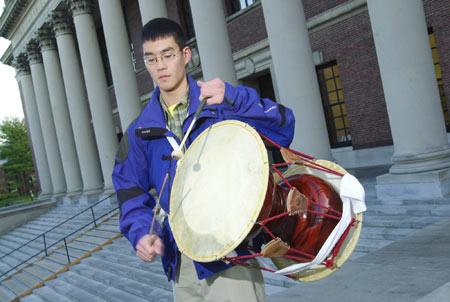 The search for peer groups is a broad trend contributing to the music explosion. Ethnic groups, women's groups, community-based, and religious music groups form all the time. For example, in 1999, Ed Kim '02 revived the Korean drumming group, which then named itself Han Ma-Eum, and now counts 15 members. "When I got here, I was pretty disappointed by the participation of upperclassmen," he says, "and during freshman year ended up playing mostly with an intercollegiate Korean drumming group at M.I.T. When sophomore year came and no one was there to head the Harvard group, I persuaded my friend Robert Lim to help me lead it."
Han has the double connotation of meaning "Korean" or "one," and Ma-Eum roughly translates as "mind and heart as one entity," Kim explains. He dedicates himself to Han Ma-Eum, "not only because it's a ton of fun and a challenge, but because it has helped me gain more insight into who I am culturally and what I value from Korean, American, and Korean-American culture."
Next year on Broadway
As for musical theater, it's so abundant that the University may harbor the next Stephen Sondheim. There are more than 70 student theater productions a year, many of them musicals. Student productions are the fastest growing part of the College's music scene.
Rachel Eisenhaure '02, is directing "The Dot-Comedy of Errors," which opened Nov. 8 at the Agassiz Theatre and runs for two weekends. This is the fourth musical she has directed at Harvard, and she hopes to "go big" with it; she plans a professional career in musical theater. Completely original, student-run, student-written, and student-directed, "The Dot-Comedy" features songs by Jihwan Kim '02 ("Stand By Your LAN"); Lembit Beecher '02; and Ezra Keshet '99, whose employment history in the information technology field since graduation (two of the three companies he worked for went under), inspired him to co-author the show with Yoho Myrvaagnes '01. Keshet wrote the show-stopper song, "Zombie Army of Evil," based on the Zombie attack on Yahoo. Dancing iMacs and Shakespearean elements add to the drama, according to Eisenhaure. Paul Gusmorino '02, the Undergraduate Council president, is among the cast of 22 and staff of 16.
Eisenhaure doesn't usually get to sleep before 4 a.m. – she's also busy writing her senior thesis on "Buffy the Vampire Slayer" – but, she says, like so many of the musicians at Harvard, "I don't regret a minute of it."