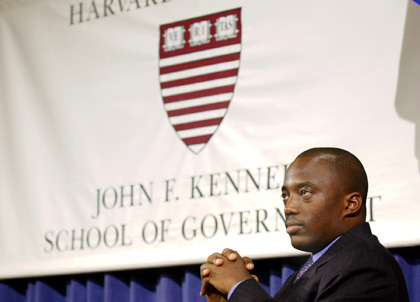 Democratic Republic of Congo's President Joseph Kabila outlined his vision for bringing prosperity and democracy to his war-torn country at the ARCO Forum Monday night. The 29-year-old president – who took office just nine months ago, after the assassination of his father and the country's president Laurent Kabila – said rebel forces are keeping the country in a state of constant, internal political chaos.
The country's mineral-rich natural resources, noted Kabila, stand in sharp contrast to the country's current state of disorder and abject poverty. With an annual average income of $75, the Democratic Republic of Congo (DRCongo) is rated one of the poorest countries in the world.
Since its independence in 1960, the DRCongo has known nothing but abuse and turmoil, said Kabila, who described Joseph Mobutu's 32-year reign from 1965 to 1997 as one of vast corruption. Since 1997, the DRCongo, formerly known as Zaire, has lost 3 million people to wars carried out by Rwandan, Ugandan, and Burundi-backed rebel groups. "Enough is enough," he said.
The government's immediate goal, Kabila said, is to restore peace and stability to the country so reconstruction can take place. However, he added that this cannot be done while external factions are in the country. To help end hostilities, a peace process with rebel factions is currently under way, the African leader said. At present, he noted, no new fighting is taking place.
To become the democratic society it wishes to be, Kabila said, the DRCongo must continue to map out a plan for economic growth, address human rights issues, and clear the way for free, fair, and democratic elections. He said he wishes to avoid the mistakes of the past by creating a country that respects the nation's free press and tolerates academic freedom. "We must raise more expectations as a government – that good government is the only way," he said.
Sponsors of the event included the Institute of Politics Student Advisory Committee, the Center for Public Leadership, the KSG African Caucus, the World Peace Foundation, the Weatherhead Center, and the Harvard African Students Association.