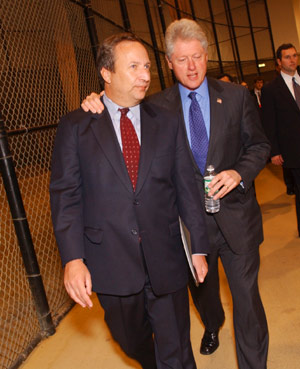 A festive mood and spirited audience welcomed former U.S. President Bill Clinton to Gordon Track on Monday (Nov. 19), providing a counterpoint to the serious issues of globalization and terrorism that he addressed in his 45-minute speech.
As the crowd of more than 5,000 filled the track to the rafters – literally – the Harvard Band played rousing versions of fight songs, including that of Clinton's alma mater, Yale (where he studied law). Balloons or confetti wouldn't have been out of place, although they likely would have violated the event's security restrictions.
By 1 p.m., as the Secret Service completed its security sweep of the building, the line of ticket-holders waiting to claim seats stretched back to North Harvard Street and began to wrap around the Murr Center. The day's unseasonable warmth and bright sun made the wait bearable, and some members of the audience bided their time picnicking, studying, or catching up with friends.
Australians Simon Fitzpatrick and Geraldine Chin and New Zealander Fiona Tregonning, all LL.M. candidates at Harvard Law School, arrived at 11 a.m. to claim their places at the front of the line. "This is going to be the biggest thing we hear all year," said Fitzpatrick, noting that U.S. presidents' visits to Down Under are rare. "I hear he's an amazing speaker."
Inside Gordon Track, Harvard showcased its vocal talent, with a cappella groups the Opportunes, the Din and Tonics, and the Kuumba Singers entertaining the growing crowd before Clinton arrived. The Din and Tonics grabbed the audience's attention as they introduced the "former president … of the Din and Tonics" with impeccable timing.
It was after 2:30 when the shrieking audience bolted to its feet to welcome Clinton, Harvard President Lawrence H. Summers, and Institute of Politics Director David Pryor.
Moments of levity peppered Clinton's otherwise serious speech. Describing his long friendship with Pryor, a fellow Arkansan (and former U.S. senator from that state), Clinton recalled county fairs, coon suppers, and eating "things no human being should be required to eat."
Envying Harvard's wealth, he chided Summers, his former secretary of the treasury, for not advising him to call the national budget surplus an endowment. "If we had called it an endowment, that tax cut never would have passed, and we'd still be on our way to a debt-free America," said Clinton to applause.
Clinton and Summers shared the stage again at the end of his speech, when Harvard football captain Ryan FitzGerald '02 presented Clinton with a Harvard jersey and a football signed by the team. An impromptu game of catch between Clinton and Summers indicated that their teamwork might have slipped a bit in the past year.
After his speech, Clinton shook hands and signed autographs for nearly 30 minutes as flashbulbs flickered and a crush of fans pressed the front of the stage. "I thought it was amazing," said a dazed Kerry Dingle '05, who had shaken the former president's hand but was lingering for a second pass and a chance at an autograph. "He really did a lot to increase democracy," she said.
Dingle was one of 250 Harvard College Democrats who enjoyed priority seating at the event. She said that Clinton had not remarked on, or perhaps had not noticed, the back of her group's shirts, which proclaim that "Republicans are welcome at Yale."
While most of the audience was composed of Harvard students, faculty, or staff, some future college students and public servants attended. Kahliah Bradshaw, a student at Cambridge Rindge and Latin High School, was nearly speechless following the event. "It was very encouraging," she said.
Nine-year-old C.J. Bitsikas had skipped school to hear Clinton speak. "It was interesting," he said shyly. His cousin, Kennedy School of Government staffer Elaine Papoulias, piped in that C.J. had written to Clinton when he was just 4 years old and had received a response. From atop a friend's shoulders, C.J. had shaken Clinton's hand, making that school absence worthwhile.
As the audience filed out of Gordon Track, the general buzz indicated that Clinton's speech met the high expectations many had for it. Elizabeth Lawton, who works at the Kennedy School of Government, had never heard the former president speak and was impressed. "He made some really good points about the basic idea of how people should treat each other and keep an open mind," she said.