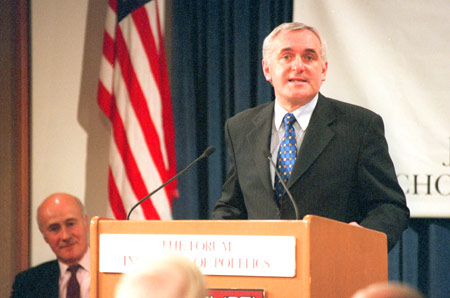 In the aftermath of the Sept. 11 attacks, Irish Prime Minister Bertie Ahern noted the parallels between the global fight against terrorism and other global conflicts, including the 30-year conflict in Northern Ireland. Ahern, the youngest prime minister in Irish history, spoke at the Kennedy School of Government's ARCO Forum on Wednesday (Nov. 7). He was sponsored by the Institute of Politics.
Ahern's advice to those involved in negotiating a peace settlement in the Arab-Israeli conflict is to "stick with it." "Build the process and trust. You won't love them. You probably won't ever love them," said Ahern referring to the different sides in the conflict. He emphasized the need to keep parties involved in the process. The peace process in Northern Ireland would have been "set back 10 years" if groups had been excluded from the process because they had engaged in violent acts.
Ahern said he considers international solidarity in the fight against global terrorism "crucial," adding that his country supports the role of the United Nations in the effort. "During the month of October, Ireland held the presidency of the Security Council and we have been deeply engaged in helping to shape the council's response to the atrocities. Our position has been clear: there is no room for terrorism in our world," he said.
The taoiseach – Gaelic for prime minister – also noted the enormous progress made for long-term peace in Northern Ireland. Known for his significant role in establishing the 1998 Good Friday peace accords, Ahern lamented, "There are those, unfortunately, who want to stop the Good Friday Agreement. There is no going back. We have a chance to consolidate the peace – from which everyone has benefited hugely – and build a future that is fair and inclusive for all the people of Northern Ireland."
In response to a question from a Harvard College student about the caliber of leadership in Northern Ireland, Ahern praised Unionist leader David Trimble and Sinn Fein leader Gerry Adams. "They've done a good job," he said, while noting that "our own experience on the road to peace in Northern Ireland has shown us that it is ultimately the power of democratic politics which has the capacity to address the underlying causes of conflict and division."
Kennedy School Dean Joseph S. Nye Jr. announced the Ireland Fellows Program that is designed to encourage cross-cultural cooperation by bringing 40 young leaders from the north and south of Ireland to Harvard University.