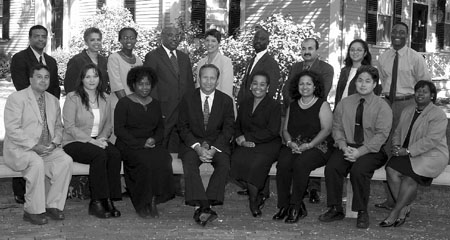 Eight new fellows have been selected for the 2001-02 Administrative Fellowship Program. Of the eight fellows, five are visiting fellows and three are resident fellows. Visiting fellows are professionals drawn from business, education, and other fields outside the University, while resident fellows are minority professionals currently working at Harvard who are identified by their department and identified by the fellowship program review committee to have the leadership potential to advance to higher administrative positions.
The Administrative Fellowship Program, coordinated by the Office of the Assistant to the President, began its year with a one-day orientation held at the Harvard Faculty Club in September. President Lawrence H. Summers was present to welcome the sponsors and the eight new fellows.
The University-wide program, now entering its 13th year, provides an opportunity to bring minority professionals into the Harvard community for a one-year work experience in academic administration.
The program is supplemented with seminars and case studies on academic administration presented by deans, vice presidents, major office directors, and faculty at the University. The goals of the program include enhancing the fellows' administrative and professional skills and clarifying their career objectives.
The 2001-02 visiting administrative fellows
Kevin Antoine, J.D. (College of William and Mary School of Law), B.A. (University of Southern Mississippi). Antoine has done postgraduate study in international affairs (Syracuse University) and urban affairs (Norfolk State). He's the CEO of the New York Management Group, a labor-management consulting firm located in the New York City area. A candidate for the U.S. House of Representative in 1996, Antoine became the first African American to win a major political party's nomination in Mississippi's majority white 4th Congressional District. Antoine is the author of several articles on employment law, gentrification, and international relations. His fellowship placement is in the School of Public Health (SPH), Division of Public Health Practice.
Brandi Foster, M.A. in anthropology (Iowa State University), B.A. in psychology/anthropology (University of Montana, Missoula). Foster most recently worked as diversity programs coordinator at the University of Montana's School of Pharmacy and Allied Health Sciences. Formerly, she was program coordinator at the University of Washington School of Medicine's Office of Multicultural Affairs/Native American Center of Excellence. Foster is a member of the Iowa Tribe of Kansas – Nebraska and several other organizations involved with Native American life and education. Her fellowship placement is in the Graduate School of Education (GSE), Harvard University Native American Program.
Marc Henry Germain, B.A. in sociology (Morehouse College). Germain currently is working at the W.E.B. Du Bois Institute for Afro – American Research on a project addressing the digital divide. He designs and implements computer – based curriculum for middle – school and high school students; in addition, he serves as a liaison between the University and The Ella J. Baker House, a local community – based organization. Before coming to Harvard, Germain created and directed job-training programs for high – risk youth in Boston and worked in South Africa for Africare, a Washington, D.C. – based development agency. His fellowship placement is in the W.E.B. Du Bois Institute.
Deborah L. Stapleton, M.P.A. (Baruch College, City University of New York), M.A. in student personnel services/counseling (Montclair State University), B.A. in history/speech and drama (Kentucky State University). Stapleton has more than 20 years of experience in the field of development and fundraising. Most recently, she worked as general manager and director of development in Crossroads Theatre Co., in New Brunswick, N.J. She is co-chair of the National Leadership Academy of the Delta Sigma Theta Sorority, Inc., a member of the National Executive Board, and a member and past president of the Central New Jersey Alumnae Chapter. She was a Leadership New Jersey Fellow and National Urban Fellow. Her fellowship placement is in the GSE, The Principals' Center.
Matthew J.M. Suzuki, M.A. (Columbia University), Ed.M. (University of Hawaii), B.S. in education (Northwestern University). For the past 14 years, Suzuki worked at the Iolani School in Honolulu, Hawaii. During that time, he served as history teacher, associate director of admissions, and, for the past seven years, director of student activities. Suzuki is also a member of several organizations involved in youth and community programs, in addition to being a Klingenstein Fellow at Columbia University's Teachers College. His fellowship assignment is at the Harvard Business School (HBS), Office of External Relations.
The 2001-02 resident administrative fellows
Dianne Austin, B.S. in communications (Emerson College). Austin is currently the assistant director of human resources at GSE. Prior to joining Harvard University, Austin worked with Partner's Healthcare at Massachusetts General Hospital where she performed recruitment and employee relations duties, as well as participated in special projects and committees. She has worked in human resources administration for several years. Austin hopes to participate in a master's program at Harvard to further enhance the administrative and managerial components of her work in human resources administration.
Anne Mathew, Ph.D. in psychology (Australian National University), M.S. in child development, and B.S. in chemistry, zoology, and psychology (Bangalore University, India). Mathew is the assistant director of the Joint Program on Religion and Public Life at Harvard University's Hauser Center for Nonprofit Organizations. She joined the center in 1998, serving as program manager for Research Initiatives. Since August, Mathew has assumed overall programmatic and financial management of a new and rapidly growing multi-disciplinary program titled the Joint Program on Religion and Public Life. At Harvard and abroad, Mathew has 10 years experience as a program manager, events coordinator, researcher, and educator.
Joann Singleton-Wilson, Ed.M. in administration planning and social policy (Harvard University), M.A. in social planning and community development and B.S. in economic geography (University of Maryland, College Park). Singleton – Wilson started her career in the Registrar's Office at SPH, where she was the assistant registrar for five years. Following a hiatus from Harvard, she returned to the University in September 2000 and is currently the registrar at SPH. She is a member of the American Association of Collegiate Registrars and Admissions Officers, the New England Association of Collegiate Registrars and Admissions Officers, and the New England Association for Executive Females.
Of the many former visiting fellows who remained at Harvard after their fellowship assignment, 14 are permanently employed by the University. Others decided to pursue opportunities outside of Harvard, typically at colleges and universities or other institutions in the nonprofit sector.
The Administrative Fellowship Program is a collaborative effort between host departments and the Office of the Assistant to the President, with fellowship stipends being underwritten in part by the President's Office. The program is coordinated by the Office of the Assistant to the President, where Teresa Malonzo serves as program coordinator, and James Hoyte, associate vice president, is the assistant to the president.