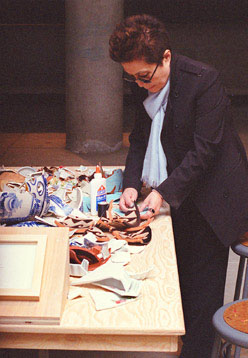 It was arts and crafts night with a twist this past Sunday evening (Oct. 21) in the Carpenter Center pit, as glue, tape, twine, shattered pottery, and Yoko Ono all came together to commemorate her latest installation, "Mend Piece to the World." The outdoor exercise of mending shattered pottery offered the large crowd an opportunity not only to get up close and personal with the prolific pioneer of experimental art, music, performance, and cinema, but also to reflect – constructively – on the events of Sept. 11.
Ono's very public appearance preceded a sold-out lecture sponsored by the Department of Visual and Environmental Studies. "An Evening with Yoko Ono," held inside the center's auditorium, was presented in conjunction with a retrospective exhibit of her 40-year career currently on display at the Massachusetts Institute of Technology's List Visual Arts Center.
During a question-and-answer session with moderator Bruce Jenkins, a senior lecturer on visual and environmental studies, Ono touched on her experiences in dealing with sexism and racism, citing "the strength in being an outsider."
Following the academic Q & A, a spicy variety show ensued. Together, Jenkins and Ono crawled into a black tent-like sheet, where, among nervous giggles and a few red faces, the cloaked duo began disrobing such nonessentials as shoes, socks, and jackets. The act served to disarm them of their previously serious roles, while firmly supporting such long-held themes in Ono's work as playfulness and participation.
Upon exiting the black bag to much applause, a slightly ruffled Ono, accompanied by a live Djembe drummer and a distorted video installation, performed a vocal piece titled "A Blueprint for a Sunrise." Between guttural barks and her calming vibrato, Ono plainly pleaded, "I wanna survive" and "Where do we go from here?"
Ono ended the event by affirming the power of artists in a changed world. But how? "They can do what they like," Ono suggested.
"YES Yoko Ono," which includes 150 works from the artist's 40-year career, will remain at M.I.T.'s List Visual Arts Center through Jan. 6.