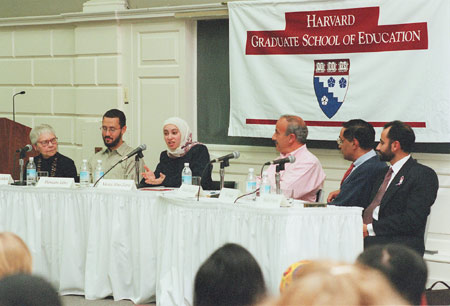 Like many Harvard schools and organizations struggling to make sense of the Sept. 11 attacks, the Graduate School of Education shuffled its Askwith Education Forums to include a new forum, "Understanding More About Islam," on Wednesday evening, Oct. 3. The panelists at the well-attended forum included an Iowan, an Egyptian, a Christian Arab, and a self-described "Asian-African-American Muslim"; not surprisingly, pluralism and diversity in Islam were major themes of the discussion.
Introducing the forum, GSE co-director of development and external relations Dottie Engler said that by 2025, one out of four people in the world will be Muslim. "There's an elephant in the middle of the room that we're starting to look at," she said.
Courtney Cazden, emerita professor of education, moderated the forum; participants were Mona Abo-Zena, Ed.M. '96, academic director of the Massachusetts Islamic schools Al Huda and Islamic Academy; Ali Asani, Harvard professor in the Study of Religion and in Near Eastern Languages and Civilizations; Munir Fasheh, director of the Arab Education Forum at the Harvard Center for Middle-Eastern Studies; Walid Fatahi, instructor of medicine at Harvard Medical School and endocrinologist at the Joslin Diabetes Clinic; and Hossam Jabri, head of the Interfaith Committee for the Islamic Society of Boston.
Fatahi opened with some verses from the Quran, first reading them in English, then chanting in Arabic. "In the name of God, most gracious, most merciful: whoever kills an innocent soul, is like he has killed all of humanity," he read. "Let not the hatred of others to you make you swerve to wrong and depart from justice."
Fatahi introduced the evening's theme of Islam as a diverse and pluralistic faith with a story about his 9-year-old son. Earlier this month, having stumbled onto CNN, he asked his father tearfully if he was an Arab or a Muslim or an American. When Fatahi asked him what he wanted to be, the son replied, "I thought you taught me to be a good human being." Indeed, being righteous is a primary tenet of Islam.
Asani, a South Asian who was born and raised in Kenya, dispelled the myth that "Arab" and "Muslim" are synonymous. Less than 20 percent of the 1 billion Muslims in the world today are Arab, he said, noting the significant Muslim populations in Africa, India, Pakistan, and Indonesia. Abo-Zena, who grew up in a small town in Iowa, pointed out that unlike many other religions, Islam is not rooted in one culture or one race. In America, where Islam is the fastest-growing religion, Muslims are especially culturally diverse.
Contrary to the perception of Islam as "the other," it is "a monotheistic faith that sees itself as a continuation of Judaism and Christianity," Asani said. "Salvation is not exclusive to any one religion or any one faith." To further illustrate the universalism of Islam, Asani defined the deeper meanings of "Islam" and "Muslim" as "submission" and "submitter." Broadly, anyone from any faith who submits to God is a Muslim.
"A Muslim would not be a Muslim unless they do all their efforts to make sure that Christians and Jews practice their religion all around the world freely," said Fatahi. "We call them 'people of the book.'"
Fasheh, a Christian Arab from Palestine, amplified this with his outsider's perspective of Islam. "You don't need an ID to get into a mosque," he said.
The only woman on the panel, Abo-Zena spoke about women's roles in Islam, an issue that has aroused passionate dissent. Although there are many interpretations of women in Islam, she said, "in Islam, women have the exact same rights and responsibilities as men." Indeed, unlike in the Old Testament of the Bible, in Islam Adam and Eve sinned and repented equally; Eve did not tempt Adam. Men and women are both expected to pursue education; "any limitation placed on education is a very un-Islamic concept," she added.
Traditional dress for Muslim women, perceived by many non-Muslims as restrictive, is anything but, she said. "The way that we dress liberates us. It takes away all the unwanted sexual attention we may be receiving and it lets people concentrate more on dealing with you as a human being," she said. As a teacher of adolescents, she hopes that the modest style of traditional dress will free young Muslim women from the body-image issues that plague so many American women.
Relating more directly to recent events, the panelists discussed the rules of war and justice in Islam. "Islam is a peaceful religion," said Jabri. "If someone offers peace, and someone doesn't attack you, or someone doesn't hurt you, then you have the obligation and the right to act peaceful to them." In Islam, he elaborated, if someone slaps your face, you can return a slap, but no harder than the one they delivered. In the eyes of God, however, forgiving that slap is better, unless by your forgiveness that person will slap others."
The panelists cautioned against branding all fighting in Muslim countries as motivated by religion. "Muslim societies are just like any other societies – they're affected by a complex web of political, social, economic factors," said Asani.
"We should not say 'Islamic terrorism' – these two terms are not compatible," said Fatahi.
Contact Beth Potier at beth_potier@harvard.edu