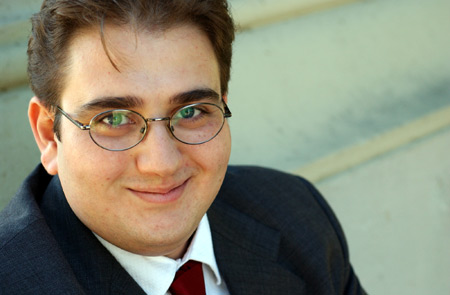 When senior Paul Gusmorino steps to the podium on Oct. 12 to deliver his inaugural greetings to President Lawrence H. Summers, he will be speaking not only on behalf of Harvard's undergraduates – he will be speaking on behalf of the future.
"There will be other people greeting President Summers from the perspective of the past and the present," he said. "I'll be bringing greetings from the students, and they are the future of the University."
Gusmorino's appearance will be the first time an undergraduate has participated in a presidential inaugural ceremony at Harvard.
Gusmorino is well suited to his role. If the undergraduates indeed represent the future, he is not only a member of that group but a duly elected representative as well. Now in his senior year, he has been active in the Undergraduate Council (UC) since he was a freshman. This year he was elected UC president in a campus-wide election.
But Gusmorino qualifies as official greeter from the future in another way. A computer science concentrator, he has already proven himself adept at using cutting-edge technology to solve practical human problems – surely a skill that the future could use more of.
"I believe I'm the first computer science concentrator to serve as president of UC," he said. "It takes an enormous time commitment, but it's something I like to do."
Gusmorino has also found time to indulge his other love, the theater. As a freshman, he co-wrote the book and lyrics to an original musical called "The Hong Kong," which was produced in the Agassiz Theatre. His roommate wrote the music. He has performed in several other productions, including "The Corn Is Green" and "The Boys from Syracuse." This term he will be performing in "The Dot.Comedy of Errors," an original student musical.
A New York City native, Gusmorino grew up speaking Italian as his first language. His father, an Italian-American doctor whose specialty is treating chronic pain, met his Italian-born wife – Gusmorino's mother – when the two were medical students at the University of Rome. Mrs. Gusmorino subsequently gave up medicine to raise a family.
Gusmorino combined his knowledge of computer science with his interest in student affairs when he served as designer and chief supporter of UC Books, a website that allows students to compare the prices, taxes, and shipping costs of various booksellers to get the best deal on their textbooks.
He not only formulated the special algorithms that enable the Web site to come up with the optimum choice from an almost infinite number of variables, he also helped to secure the necessary support from the registrar, the faculty, and Harvard Arts and Sciences Computer Services (HASCS).
Finding the best deal on a textbook is what computer scientists call a combinatorial optimization problem, and it is this topic that Gusmorino is working on for his senior honors thesis. As he sees it, part of the problem is figuring out how humans and computers can best interact.
"Computers are good at crunching numbers, people are good at using language to communicate. How do you separate problems into components that computers are good at solving and components that people are good at solving?"
Solving problems is what Gusmorino excels at in his roll as UC president as well.
"I think too many people are satisfied with the idea that you can't make everybody happy," he said. "I don't mean to be naive, but I think you can."
The key to making everyone happy in any given situation, he believes, is in carefully working out the details. For example, Gusmorino is currently working on a program that will allow financially strapped undergraduates to obtain complimentary tickets to student events.
The goal seemed eminently worthwhile, but at first the problem of implementing such a program seemed impossible to surmount. But in the end, Gusmorino's optimistic approach to technology saved the day. He helped design a program that checks financial aid data, authorizes the box office to issue a ticket, and bills the cost to the College, all without sacrificing student confidentiality. The system is now waiting for final approval.
"I think that every problem has a solution," Gusmorino said. "It may take a long time to figure it out, and the solution may create new problems, but then those problems will have solutions, too."
Contact Ken Gewertz at ken_gewertz@harvard.edu