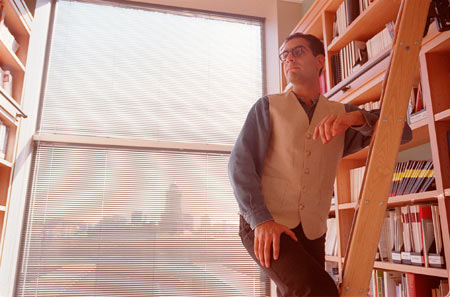 A Kennedy School researcher has concluded that patent protection for AIDS drugs – blamed by some activists for restricting access to medication needed in the African AIDS epidemic – actually has little effect on the distribution of the drugs on that continent.
The study, which presents survey data from major pharmaceutical companies that make AIDS-fighting antiretroviral drugs, shows that more than half of the 15 antiretroviral drugs surveyed were patented in three or fewer of the continent's 53 countries.
In the paper, Amir Attaran and his co-author, Lee Gillespie-White of the International Intellectual Property Institute, say that while patent coverage varies widely from country to country, use of the drugs is consistently low across the continent and apparently unrelated to that coverage.
"We observe that there is no apparent correlation between access to antiretroviral treatment, which is uniformly poor across Africa, and patent status, which varies extensively by country and drug," they write in the paper.
Patents for AIDS drugs have come under fire repeatedly in recent years, with activists charging that the patents keep drug prices high and block manufacture of cheaper generic alternatives that could save lives. About 25 million people are infected with AIDS in Africa and just 25,000, or one in 1,000, are receiving antiretroviral drug treatment.
Published as a special communication in the Journal of the American Medical Association this week, the study came under fire even before its publication from activists who shared drafts of the journal article over the Internet.
Attaran, who began circulating drafts seeking input, said some commentators had been helpful and even prompted changes in drafts of the article. Other criticism, he said, has amounted to little more than name-calling.
"We've had comments passed to us that were very helpful," Attaran said. Then, citing an e-mail referring to him as a "cretin" and to his "study" in quotation marks, he said, "Not this. This is not meaningful."
One critic, director of the Washington D.C.-based Consumer Project on Technology James Love, said it's wrong to conclude that patents aren't a problem in Africa just because there aren't a lot of them. What is not shown in Attaran and Gillespie-White's paper, Love said, is that the cheapest and easiest-to-administer drugs – those that can be provided in a single pill – are actually patented in the countries with the largest populations and the wealth to be able to buy them if provided cheaply enough.
"What's not blocked are regimes that are expensive to manufacture and require lots of pills," Love said. "You can't construct the cheapest ones, because the cheapest ones have patent protection."
Attaran questioned Love's claims that single-pill therapies are appropriate, pointing out that none are on the list of "highly recommended" therapies by the U.S. Department of Health and Human Services, and two of the three available have not been fully tested.
"They are, in a nutshell, not fully tested for safety or efficacy in humans," Attaran said. "Probably they could pass that scrutiny if they were put through the appropriate trials, but for now, suggesting that these 'cheap' therapies should be used violates medical ethics."
Love said he's particularly concerned because the study's conclusions could hurt the drive to provide cheap, generic versions of AIDS drugs to millions of infected Africans.
"The average person will look at this and say, 'Look, patents really aren't a problem,'" Love said.
Which is okay with Attaran. Attaran said he embarked on the study because he suspected there weren't many patents, despite the high-profile furor over AIDS drug patent protection in the news. The focus on patents, he said, may be taking energy and attention from more important hurdles, such as the lack of international financing to buy antiretroviral drugs.
"An enormous amount of effort is wasted here on the patent problem, as if that's the major issue in treatment, and that is quite incorrect," Attaran said.
Attaran took pains to point out, however, that the study looks at the African situation for antiretroviral drugs only, and is not the last word on the patent issue.
"We're not saying patents don't matter at all. They could be a problem tomorrow. They could be a problem in other parts of the world, or for different drugs," Attaran said.
Attaran and Gillespie-White conclude that AIDS drugs are not used widely in Africa because the health-care delivery system is inadequate and those with the disease – and their governments – are too poor. While the average African country has a health budget of $10 or less per person, antiretroviral treatment alone costs hundreds or thousands of dollars, even using the cheapest generic drugs.
"To expect Africans to be able to pay for this and make them available with their current resources, even if this was free, is unreasonable," Attaran said. "The most important thing to do is to try to make it understood that it's the rich countries that are guilty by nonfeasance."
The study concludes that the culprit in the lack of AIDS drugs on the African continent is the low level of aid provided by developed countries, and calls on the developed world to respond to the situation rapidly.
"Acquired immunodeficiency syndrome is now the most numerically lethal pandemic since the Black Death 650 years ago – a pandemic so rare that it presents a literally unprecedented test to Western democracy, which is not 650 years old," Attaran and Gillespie-White write. "History will not judge kindly an avoidable delay."