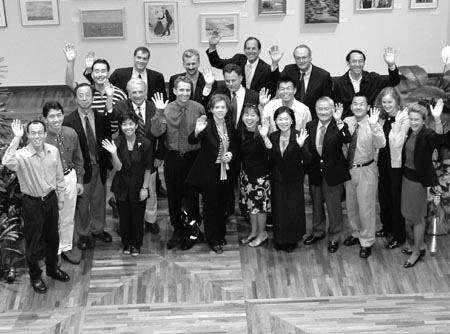 The new fall fellows at the Center for Business and Government (CBG) at the Kennedy School of Government (KSG) include high-level bank and finance officers from Asia, Internet entrepreneurs, leading policy-makers, and top researchers from around the world. The fellows will tackle projects ranging from charting political and economic reform in China to creating an international blueprint for electricity market restructuring. Together, the fellows bring experience building businesses from Bangladesh to Boston and manning the helm of financial institutions, government agencies, and nonprofit organizations from Europe to the Far East.
"The CBG fellows are leaders in business, government, and civil society who will help us to advance our mission to promote economic growth while strengthening democratic institutions," said Ira Jackson, director of the center. "Among our 33 fall fellows, we have a leading economist of the Central Bank of China working on the development of the mutual fund industry; a director of the Prince of Wales Business Leaders Forum in London pursuing public/private partnerships for peace; a former premier who is exploring the relationship between the military and other government organizations in Taiwan; and the founder of an education company who is exploring ways to harness technology to create customized learning."
Under the direction of Elizabeth Bulette, CBG fellows share their insights at public seminars, work with faculty members to advance the research of the center, and use the resources and expertise at CBG to complete special projects and evaluate public policy initiatives with applications in the United States and abroad.
The roster of fall fellows
Marshall N. Carter, retired chairman and CEO of State Street Bank and Trust Company, is a senior fellow and adjunct lecturer at the center. Carter's research and teaching focuses on issues of leadership in government and business. In September, he was appointed by the acting governor of Massachusetts to chair a special task force to review Massport operations in the wake of security concerns at Logan Airport. Carter's course is titled "Case Studies in Leadership."
Patrick Daniel is a senior fellow and the editor of Business Times, Singapore's business daily newspaper. He also writes for the paper and chairs the organizing committee for the Singapore Business Awards program. Daniel completed his M.P.A. at KSG in 1984. As a senior fellow at CBG, Daniel will work with the center's Asia Pacific Policy Program.
Jerome H. Grossman, M.D., is a senior fellow and head of a new KSG project on health-care delivery policy. Grossman is chairman emeritus of New England Medical Center, Inc., where he served as chairman and CEO from 1979 to 1995, and is honorary physician at Massachusetts General Hospital. He was named to the Institute of Medicine of the National Academy of Sciences in 1983 and served as scholar-in-residence at the institute in 1996. As a senior fellow at CBG last year, Grossman authored a report on the state of health care in Massachusetts.
Thomas Healey, a senior fellow and adjunct lecturer, is a managing director of Goldman, Sachs & Co., and the head of its U.S. Institutional Business Development for the Asset Management Division. Before joining Goldman Sachs, Healey was assistant secretary of the treasury for domestic finance under President Reagan. He is a chartered financial analyst and a counselor of real estate. Healey's course is titled "Financial Institutions and Markets: Regulation and Public Policy."
Tang Fei, senior fellow with CBG's China Public Policy Program, is the former premier of the Republic of China. Premier Tang stepped down from his post in October 2000. Prior to his appointment as premier, Tang's career as a highly decorated military officer spanned 50 years and included over 300 combat missions. In 1999, he retired from the military to become Taiwan's minister of defense. As a senior fellow, Tang's research at the center focuses on the relationship between the military and other government organizations in Taiwan.
Fiona Woolf is a partner with CMS Cameron McKenna of London. As a senior partner with the law firm from 1985 to 1997, she was head of the Energy and Projects Practice group where she was involved in electricity restructuring and privatization as well as major power and transmission projects. As a senior fellow at the center, she will be working with William Hogan in the Harvard Electricity Policy Group. Her research will focus on electricity restructuring.
David Banisar, a fellow at the center's Harvard Information Infrastructure Project (HIIP), is deputy director of Privacy International, a United Kingdom – based human rights group; counsel to the Transactional Records Access Clearinghouse at Syracuse University; and a consultant on information issues including privacy, data protection, and Internet security. He is one of the founders of the Electronic Privacy Information Center.
Nolan Bowie is a fellow at HIIP and an adjunct lecturer in public policy at KSG. Bowie served as an assistant special prosecutor with the Watergate special prosecution force, assistant attorney general in the Civil Rights Bureau of the New York State Department of Law, and as staff attorney and executive director of Citizens Communications Center, a public interest law firm. Bowie is teaching "Information and Media Regulation and Public Policy."
Jason Catlett is president and founder of Junkbusters Corp., and a fellow at HIIP. A computer scientist with a Ph.D. in data mining, Catlett is one of the nation's leading experts on the interplay between technology, marketing, and privacy. He has testified on privacy issues before the U.S. Senate, House of Representatives, and the Federal Trade Commission. Catlett taught computer science for several years at the University of Sydney. In 1992, he moved to AT&T Bell Laboratories in New Jersey where he worked on data mining of large databases.
Huey-Ming Chen comes to the center from her current position as the deputy division chief in the economic research department of the Central Bank of China, Taiwan. She was appointed by the bank to undertake a research project on the development of the mutual fund industry and its implications for financial policies. She has worked in the Central Bank of China for 10 years where she has focused primarily on monetary policies and banking conditions.
Mary Graham is a lawyer, writer, and experienced analyst of regulatory policies. The HIIP fellow is the author of "The Morning After Earth Day," on U.S. environmental policy and is working on "Democracy by Disclosure" which explores the use of information disclosure in reducing health, safety, and environmental risks. Graham was elected to the board of directors of the John D. and Catherine T. MacArthur Foundation in 2001. She received funding from the Woodrow Wilson Center for International Scholars to conduct a 1999 conference on emerging issues in environmental policy.
Paul Hodge returns to KSG as a research fellow with the center and as the recipient of the 2000 KSG Lucius N. Littauer Fellowship and the KSG Community and Public Service Award. Throughout his career, Hodge has been instrumental in raising public awareness about elder abuse and aging policy issues. He has two upcoming books, "Doing Good By Doing Well" and "The Baby Boom Bust." This year, Hodge will focus his efforts on a national aging policy project.
Angang Hu is a professor at Tsinghua University and director of the university's Center for China Studies. Hu is also a commissioner on the Experts Commission of Territory Resources at the Chinese Academy of Sciences, where he is also a research fellow. Hu is a member of the Science and Technology Consultant Committee in the State Bureau of Environmental Protection. His research explores issues influencing China's development.
Yanming Luo, a professor and researcher at the Institute of Contemporary Marxism in the Central Translation Bureau of China, was formerly a magistrate in the Hebei Providence of Yi County and a teacher in the Communist Party Cadre of Shandong Province. He is the co-author of the "Dictionary of International Communist Movements in History," and chief author of the "Manifesto of the Communist Party," which received China's top writing award in 1998.
Jane Nelson is an internationally recognized speaker and writer in the fields of corporate social responsibility and public-private partnerships. She is a director at The Prince of Wales Business Leaders Forum – an adviser to companies and international governmental and nongovernmental organizations. Nelson has authored publications on cross-sector partnerships, and business in society. Born in Zimbabwe, Nelson has worked in Asia, Europe, Latin America, and the Middle East.
Susumu Onoyama is an assistant manager in the LNG Tank Construction office of Obayashi Corp., Japan's second largest construction firm. He tutors high school students in English and math. Onoyama is the elected director of "Life: Live with Friends on the Earth," a nonprofit organization that constructs water wells and plants trees in Indian and Indonesian villages.
Iqbal Quadir, a lecturer in public policy, founded GrameenPhone to connect the rural areas of Bangladesh by building a nationwide cellular network. With the support of Grameen Bank of Bangladesh and Telenor AS of Norway, Quadir conceived and developed the company's basic concept of providing telephone access to the rural poor to create village-based micro-enterprises that would improve the standard of living. Quadir is an active member of the World Economic Forum's Task Force on the Digital Divide. He is teaching technology and economic development this fall and technology and governance in the spring.
Jordan D. Ryan most recently was director of the Office of the Administrator of the U.N. Development Program (UNDP) in New York. At UNDP, he provided strategic advice on key issues including policy and change management. Ryan joins the center to research the economic development and social transition process of Vietnam before he becomes the UNDP's resident coordinator for Vietnam.
Maria Christina Scharf is a research fellow at the Institute of Public Services and Tourism at the University of St. Gallen in Switzerland, where she coordinates the Center of Excellence for Electronic Government. As a CBG fellow, Scharf will focus her research on the relationship between e-government and public sector reforms, and knowledge transfers between public sector organizations and citizens.
Rina Spence was formerly the president and CEO of iEmily.com, Inc., an Internet company focused on the health and wellness of teenage girls. She served as CEO of Emerson Hospital and Emerson Health Systems Inc., for 10 years. Spence holds an M.P.A. from KSG. Her research and engagement focus on women and entrepreneurship.
Kazuhiro Suda is senior director of research at the Economic and Social Research Institute (ESRI) of the Cabinet Office for the government of Japan. Working with HIIP, his research will look at optimum conditions for the development of future information infrastructure based on new technologies and on policy options for future information technology investments in Japan.
Toshiyuki Takamizo is the manager of business development planning for Panasonic Corporate Systems, a U.S. subsidiary of Matsushita Electric. Takamizo is a graduate of Kobe University and has a master's degree in business administration from the International University of Japan. His research will be on the impact of the information technology revolution on society.
Anthony Tjan is an HIIP fellow and the founding CEO and former executive vice president of ZEFER, a top Internet consulting firm. Since 1993, he has served as a regular participant and external staff member to the World Economic Forum (WEF). Tjan is a graduate of Harvard College and received his M.B.A. from the Harvard Business School. Working with HIIP, his research will be on the expanding role of technology in emerging countries.
Jean-Robert Tyran is a lecturer in economics at the University of St. Gallen, Switzerland. His research interests are in environmental policy, causes and consequences of nominal rigidities, and public finance. Past fellowships include the Stockholm School of Economics, the London School of Economics, and the University of Zurich. While at CBG, he is conducting research on pricing in consumer markets.
Robert Waldron is CEO of Score Learning, Inc., of Oakland, Calif., and formerly vice president of Kaplan where he started the Kaplan After School program. Waldron spent three years at Morgan Stanley where he was an analyst in public finance and worked as an associate in fixed-income trading. Waldron will be working with Richard Light on research involving the application of the Internet in creating measurable learning outcomes for children.
Yi Wang is vice governor of the China Development Bank where he is responsible for international business, investment banking, and information technology. He is also the former vice chairman of the China Securities Regulatory Commission. As a CBG fellow, Wang will compare the financial system, operation environment, and management behavior of financial institutions in the United States and China in preparation for China's accession to the World Trade Organization.
Xiao Wei is managing director and vice president of the Beijing International Trust and Investment Corp., where his responsibilities include trust and investment, venture investment, and research and development. Previously, he was director of the International Department of the Industrial and Commerce Bank of China. His primary focus is addressing the challenge of China's adaptation to economic globalization.
Yongping Wu is a postdoctoral fellow at CBG. He received his Ph.D. from the Research School of Asian, African, and Amerindian Studies at Leiden University, the Netherlands. His research showed that small to midsize enterprises, not conglomerates, served as the main engine of industrialization in Taiwan. Wu's fields of interest include government-business relations, production systems, and comparative political economy.
Fumi Yamauchi recently completed her doctoral degree at Doshisha University in Kyoto, Japan. She interned at the United Nations in New York and United Nations Educational, Scientific and Cultural Organizations in Paris where she was awarded a research fellowship following her internship. Her research at CBG will center on social development and grassroots activism, particularly among Japanese women.
Xuedong Yang is an assistant professor at the China Center for Comparative Politics and Economics at Beijing University. He has published numerous books on Chinese local politics. The publication of his doctoral dissertation, "Market Development, Society Growth and State Building: Take the County as an Analytical Unit," is forthcoming. As a CBG fellow, Yang will be researching China's political system reform at the town and county levels.
Karen Yeung is a law fellow at St Anne's College, Oxford, and the Linnells' University Lecturer in Commercial Law at the University of Oxford. Her research interests lie in public law and economic regulation with an emphasis on issues relating to regulatory enforcement. Yeung's work at the center will focus on fundamental rights and commercial regulation.
Cheng-fu Zhang is professor of public administration and vice dean of the School of Public Administration at Renmin University in China. He has written extensively on public management and administration, administrative decision-making, and human resource management. Zhang will be working with Elaine Kamarck on strategies and experiences of American government reinvention and its implications for Chinese government reform.
Lei Zhang is a lecturer and Ph.D. candidate in the department of political science at China's Tsinghua University. His research interests include the comparative study of Chinese and American politics; China's political system reform and public policy; and the cross-cultural study of political impact on government. As a fellow at CBG, Zhang will work with Anthony Saich.