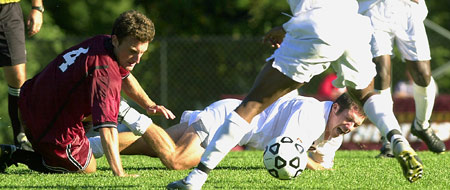 Coming off a big 2-1 overtime win against 6th-ranked University of San Diego on Friday, Sept. 21, the Harvard men's soccer team (5-2, 1-0 Ivy) dropped a 1-3 contest at Loyola Marymount (7-3), and a 2-3 encounter at Boston College (7-2-1) – a game beset with crippling red card suspensions for the Crimson team.
On its home turf, however, the Crimson crew – ranked 18th in the nation – responded loudly, and clearly, with a 7-0 blanking of Maine (1-6) on Saturday, Sept. 29. Three days later, Harvard went on to earn its second consecutive shutout this season, beating host Providence College (0-7-1) 3-0 on Tuesday, Oct. 2.
At Providence, Harvard back Joe Staffa '03 notched two assists in the winning effort, setting up team captain Nick Lenicheck '02 at 18:02, and midfielder Kevin Ara '04 in the second half. The Crimson's Colin Eyre '03 sealed the win with an unassisted goal at 83:53.
In individual efforts, freshman forward Jeremy Truntzer, a four-year letter-winner at Palo Alto High School, has been named Ivy League Rookie of the week. Truntzer netted the Crimson's first goal against the Eagles, ending last week's campaign with a pair of goals. Since the start of the season, the 2000 San Jose Mercury News CCS Player of the Year has tallied three goals and one assist.
The competition is sure to heat up when the Crimson squad hosts Ivy rival Princeton University (3-0-2, 1-0-1 Ivy) on Saturday, Oct. 6 at noon.