There's a buzz around the Radcliffe Institute for Advanced Study, and it's not just the whir of construction equipment in Radcliffe Yard. If you listen closely, you'll hear excited discussion of the four new academic leaders that Drew Gilpin Faust, dean of the Radcliffe Institute, has recruited to help implement the Radcliffe's mission.
Beginning this fall, Barbara Grosz, Higgins Professor of Natural Sciences in the Faculty of Arts and Sciences, will be the first dean of science at Radcliffe; and Katherine S. Newman, Malcolm Wiener Professor of Urban Studies at the Kennedy School, will be the Radcliffe Institute's first dean of social science.
Mahzarin Banaji and Nancy Cott, who currently hold endowed chairs at Yale, will begin at Radcliffe in January 2002. Banaji will come to Harvard as the Carol K. Pforzheimer Professor at Radcliffe and Cabot Professor of Social Ethics in the Faculty of Arts and Sciences. Cott will be the first faculty director of the Arthur and Elizabeth Schlesinger Library on the History of Women in America and will hold a tenured professorship in the Department of History.
"These distinguished members of the University faculty will assist me in creating structures and programs that will provide focus for the Institute's mission," Faust said. "They will help establish Radcliffe's new intellectual agenda."
The mission of the new Institute – defined by the governing boards of Harvard and Radcliffe when Radcliffe College officially merged with Harvard University on Oct. 1, 1999 – is to "create an academic community where individuals can pursue advanced work in academic disciplines, professions, or creative arts." Within this broad purpose, the Radcliffe Institute continues its historic commitment to the study of women, gender, and society.
With the Institute's activities centered on its fellowship program – 43 fellows arrived in mid-September for the 2001-02 academic year – the new faculty leaders will collaborate with other Harvard faculty members and Radcliffe fellows to further one another's research goals. "Radcliffe is the premier place to build a new intellectual community at Harvard," Newman said. "It will become a crossroads that links the schools and departments to make the most out of the extraordinary talent we have at Harvard."
As Radcliffe's dean of social science, Newman wants to "make Radcliffe an irresistible magnet for social scientists on the Harvard campus and colleagues around the country to spend time working together. Our research clusters will have a longer life than the one-year fellowship program for which Radcliffe is justly famous, and will link back to the ongoing scholarship of Harvard faculty in ways that other institutes cannot facilitate."
Like other institutes for advanced study – including the Institute for Advanced Study in Princeton and the Center for Advanced Study in the Behavioral Sciences in Stanford – the Radcliffe Institute pursues the outermost reaches of knowledge through its fellowship program. But unlike its counterparts, the Radcliffe Institute is the only institute for advanced study that's located within a university. "We have an unparalleled opportunity to benefit from Harvard's intellectual resources, to engage with faculty, students, schools, department, and libraries," Faust said.
Among those resources is the Schlesinger Library at Radcliffe, the world's foremost collection of manuscripts and rare books on the history of American women. "It's a major national treasure," said Cott, the newly appointed director, who has been using the library for her research over the past 30 years. "I first used it when I was in graduate school at Brandeis and had the opportunity to teach women's history for the first time. At the time, I didn't trust any books published by recent historians on the history of women because I thought they were all lacking the appropriate perspective."
To correct the historical record, Cott has written seven books on women's history and supervised the doctoral training of 30 scholars in women's history and American history. Perhaps because she never had women mentors herself, Cott has dedicated herself to educating the next generation of academics. "I never worked with women mentors," Cott said. "I was too early for that."
One field where women mentors are still in short supply is science, and it's an area where the Radcliffe Institute aims to make a difference. Grosz, the institute's new dean of science, joined the Harvard faculty in 1986 and is one of 12 women faculty in the sciences who have earned tenure. "I'm very excited about the opportunity and challenge of launching a new science program," Grosz said. "It's a chance to influence science at Radcliffe, science at Harvard, and the opportunities for women, especially women in science at Harvard." Like the other new appointees, Grosz will divide her time between the Radcliffe Institute and her other academic home at Harvard, in her case the Faculty of Arts and Sciences.
Mahazarin Banaji, the fourth member of Radcliffe's "dream team," was recruited with a new sort of academic appointment, one made in coordination by Faust and Jeremy R. Knowles, dean of the Faculty of Arts and Sciences. Under the terms of her appointment, Banaji will spend four semesters as a resident fellow at Radcliffe during her first five years at Harvard. In this way, new members of Harvard's tenured faculty will be engaged with Radcliffe and their home faculty from the moment of their arrival.
"This is a great honor," Banaji said. "I hope very much to be able to use this recognition to advance the intellectual agenda of the newly constituted Radcliffe Institute." Banaji's research at Yale has focused on the unconscious processes in social judgment, with a focus on implicit forms of prejudice and discrimination. A member of the Yale faculty since 1986, she is currently Reuben Post Halleck Professor of Psychology.
With the arrival of 43 new fellows and this lineup of academic leaders and programs, it's no wonder that Radcliffe is buzzing this fall. As Cott said, "There's a huge amount of energy at the Radcliffe Institute right now, a wonderful sense of possibility."
– Pat Harrison is editor of the Radcliffe Quarterly.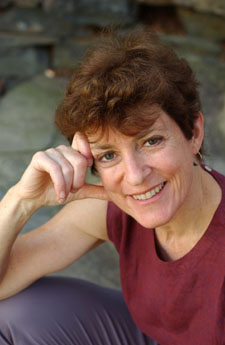 Nancy Cott
A leading educator of scholars in women's history and American history, the author of seven important books on the cultural history of American women, and the holder of Yale's highest academic honor, a Sterling professorship – these are among the achievements of Nancy Cott, recently named to be the first faculty leader of Radcliffe's Arthur and Elizabeth Schlesinger Library on the History of Women in America.
"I cannot imagine a better person to lead the Schlesinger Library," said Faust. "This is a wonderful moment for Radcliffe."
A member of the Yale history faculty since 1975, Cott played a major role in establishing a women's studies major at Yale and served as chair of the women's studies program from 1980 to 1987. She has also chaired Yale's American studies program.
With her 1977 book "The Bonds of Womanhood: 'Woman's Sphere' in New England, 1780-1835," Cott established her reputation in women's history. Harvard history professor Laurel Thatcher Ulrich has said of this book, "[It] is not just a pioneer work in women's history. It is a classic. Despite all the work published since, it is still an essential starting place for understanding New England in the early republic." Cott is the author of six other books, including last year's "Public Vows: A History of Marriage and the Nation."
Cott's intentions for the Schlesinger Library include the hope of collaborating with libraries in Harvard's professional schools, such as the library at the Harvard Business School, which contains materials on women entrepreneurs. "There are resources in the professional schools' libraries that the Schlesinger should know about so that there could be real coordination," Cott said. She also intends to promote use of the Schlesinger Library among students. "Far more faculty members – I'm thinking mainly in FAS [the Faculty of Arts and Sciences] – could make use of the library for their students," she said.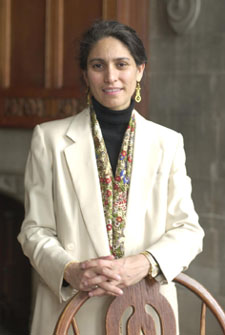 Mahzarin Banaji
Mahzarin Banaji is known internationally for her research on the unconscious processes of prejudice and discrimination. In 1998, she and Anthony G. Greenwald, a University of Washington psychology professor, launched a Web site (http://www.yale.edu/implicit/) that features a series of brief tests that measure unconscious levels of race and age prejudice, gender stereotyping, and self-esteem. Grants from the National Science Foundation and the National Institute of Mental Health funded the project.
The scope of Banaji's research dovetails nicely with the intellectual agenda of the Radcliffe Institute, which stipulates that the studies of women and gender not be isolated from other fields of inquiry. Her entry into this field began with research into the mental bases of gender inequalities. She also focuses on such areas as memory, social cognition, social neuroscience, and the ethical and legal implications of implicit attitudes, beliefs, and consciousness. Her research is aimed at providing an understanding of the subtle yet important manner in which stereotyped judgments are produced and at questioning the currently dominant conception that such evaluations operate primarily within consciousness.
"By using implicit measures of stereotypes, we are discovering how social categories that are outside of awareness – such as race and gender – can nevertheless have powerful effects on thoughts and behavior," Banaji said.
While at Yale, she has served as director of undergraduate studies for the women's studies program as well as director of undergraduate studies in the psychology department. Her four semesters as a resident fellow at Radcliffe during her first five years as a tenured Harvard faculty member will allow her to continue those threads in her academic career and research.
"The advantage of being at Harvard and the Radcliffe Institute is intellectual depth and breadth. In the psychology department, I will be surrounded by people who are some of my most admired colleagues in the field," Banaji said. "At Radcliffe I will have the opportunity to grow in the company of scholars and scientists who share fundamental interests." In addition, she is eager to be involved with undergraduates.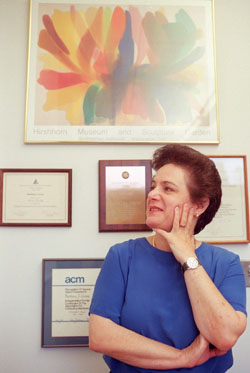 Barbara Grosz
A pre-eminent researcher in the field of artificial intelligence (AI), Barbara Grosz also has expertise in developing new interdisciplinary programs and advocating for women in the sciences. Her experience makes her ideally suited for her new role as the first dean of science at the Radcliffe Institute.
Grosz will build a program that enables the Radcliffe Institute to make significant contributions to the advancement of scientific knowledge and to the enhancement of the position of women within fields in which they have been particularly underrepresented.
In her research, which she will continue while dean of science, Grosz seeks to make computers behave more intelligently and be more human-friendly. Grosz has written several seminal papers on techniques for getting computer systems to participate in dialogues in natural languages (e.g., English, French, Japanese) with users and for constructing systems that act collaboratively, assisting people in accomplishing tasks rather than simply responding to commands. She is widely regarded as having established the research field of computational model of discourse.
Grosz served as chair of the Standing Committee on the Status of Women at Harvard that in 1991 issued "Report on Women in the Sciences at Harvard." The report described factors affecting graduate students and junior faculty in the sciences and made recommendations on the recruitment and retention of women scientists. She remains engaged in the ongoing effort to increase the numbers of women science faculty.
Grosz's efforts on behalf of Radcliffe's science program aim to enrich science activities not only at Radcliffe but across Harvard. In her first year, Grosz will consult with science faculty throughout Harvard to identify major scientific challenges and leading researchers who could best benefit from and contribute to the stimulating environment for research and cross-disciplinary interaction that Radcliffe will foster. In subsequent years, she expects to create clusters of researchers, both within and across individual scientific fields, who are working actively on these cutting-edge problems. She expects these clusters to include significant numbers of women and hopes "to increase both the overall visibility of women scientists at Harvard and the number of women scientists on the permanent faculty."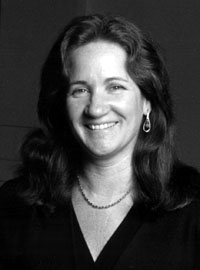 Katherine S. Newman
The cultural meaning of work is the thread that runs through Katherine S. Newman's research. Her 1999 book, "No Shame in My Game: The Working Poor in the Inner City," debunked the view that poverty is a function of joblessness by focusing on minimum wage employees in Harlem. Earlier books – "Falling From Grace" and "Declining Fortunes" – considered the impact of economic restructuring on the American middle class. Her fifth book, "A Different Shade of Grey" (forthcoming in 2002), examines the aging experience in the inner city, where declining job opportunities have limited the options for younger generations and rendered them less able to assist their elders.
"Work identity is absolutely critical to one's moral standing in the United States," said Newman. "To be out of the labor force is to be so stigmatized that you're denied recognition as a full citizen."
A professor of anthropology at Columbia University for 16 years, Newman welcomed the opportunity to move to the Kennedy School in 1996 because it opened an interdisciplinary terrain that she has always valued. Upon her arrival, Newman teamed up with dozens of colleagues in social policy and the Faculty of Arts and Sciences departments of economics, government, and sociology to create a nationally recognized training program on inequality funded by the National Science Foundation. "I would like to see that kind of model become central to Radcliffe," she said. "I enjoy bringing people together across institutional boundaries, developing research topics that can only be understood through an interdisciplinary lens."
An example of what she has in mind involves the study of immigration. "I plan to organize a research cluster on new Americans and on the sort of international migration patterns that are becoming clear in Western Europe, in Latin America, in Africa," Newman said. The group will be structured around key Harvard faculty, complemented by nationally known scholars from other universities. One or two clusters of this kind will be in residence at Radcliffe every year.
A frequent commentator on television and radio news shows, Newman is also committed to public scholarship. "The institute should become a center for serious debate," she explained. "Social science has been supported generously by the society that surrounds us. Wherever possible, we should give back by contributing the fruit of our ideas. That is Radcliffe to the core."