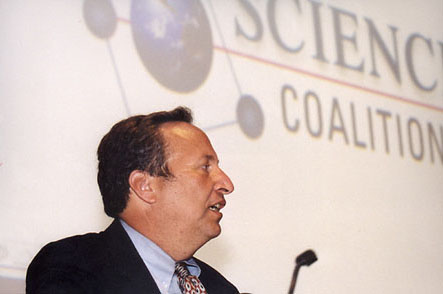 Harvard President Lawrence H. Summers led a contingent of University faculty and officials to Washington, D.C., July 11 and 12 for a day-and-a-half effort to call attention to the importance of federal funding for basic scientific research.
The third annual "Science Day" effort was sponsored by the Science Coalition, a coalition of universities, companies, and individual scientists founded in 1994 to promote federal science funding.
Summers was one of six university presidents who attended, accompanied by approximately 150 researchers and students from 44 colleges and universities, including the Massachusetts Institute of Technology (M.I.T.), Tufts University, Boston University, and Yale University.
The effort was particularly important this year, according to Harvard's Senior Director of Federal and State Relations Kevin Casey. Though support has remained steady for increases in medical and life sciences research, the dwindling surplus and tight spending caps in the Bush administration's proposed budget have hurt momentum for funding increases in the physical sciences and engineering.
"With continued heavy competition for limited federal resources it is more important than ever to make the case in Washington that the investment in university-based basic research is in the long-term national interest," Casey said.
At a welcoming banquet, Summers addressed an audience of 200 researchers, students, and professional scientific society officers, highlighting the fact that work in chemistry, physics, and mathematics have made the recent rapid advances in biology and medical research possible. He then introduced former House Speaker Newt Gingrich, who gave the researchers, students, and officials a pep talk on the ins and outs of lobbying in Washington.
In making the case for basic research, Summers observed that "life expectancy increased from the 40s to the 70s in the last century and the 21st century is supposed to be the century of biology. In addition, the secure credit card transactions we take for granted are kept secure by algorithms that come out of abstract mathematical research into the theory of numbers. These examples can be multiplied. Basic research pays off in ways no one can foresee."
Landon T. Clay Professor of Mathematics and Theoretical Science Arthur Jaffe said he thought Summers and Gingrich struck the right note, especially by mentioning the importance of mathematics as a foundation for the other sciences.
"What was unique about Wednesday evening with Larry Summers and Newt Gingrich was the emphasis on mathematics as a fundamental science," Jaffe said.
Jaffe said that outreach efforts like Science Day are important now because the Bush administration has not yet filled the post of science adviser. [Subsequently the president has announced a science adviser who has not yet been confirmed by Congress.]
"I think it's crucial because this is the time that things are being put into place in the Bush administration," Jaffe said. "I think the fact that we haven't had a science adviser and the new one isn't confirmed … makes it hard for the Bush administration to have a cogent science policy."
Physics Professor Charles Marcus, along with colleagues from Boston University, M.I.T., and Tufts, spent much of the day meeting with staff from the Massachusetts delegation. He discussed the work at the center and spoke of the importance of funding basic, curiosity-driven scientific research. The ability of researchers to follow intriguing, unexpected leads without risking their funding has resulted in many important advances, he said.
"We are in a constant state of being down on our hands and knees begging," Marcus said. "It should be different. If you look at what makes the economy [grow], it comes from basic scientific research. The invention of the laser didn't come out of a grant to do eye surgery, it came out of basic research."
While researchers and students met with members of their state delegations, Summers, Greater Boston Chamber of Commerce President Paul Guzzi, and the other university presidents made the case for federal support for basic research with White House officials, individual congressmen, and House Speaker Dennis Hastert.
Though he couldn't say how many minds were changed, Casey said the day was successful. It is critically important, he said, that lawmakers, Bush administration officials, and congressional staff get a chance to talk first-hand with researchers so that the importance of funding scientific research is taken into account when budget decisions are made.
"Young, brilliant, and enthusiastic researchers tell a compelling story. They embody the promise of the future and, by taking time from their daily research, demonstrate an appreciation for the important federal role in supporting their current work and impacting future career choices," Casey said.