Staff photos by Kris Snibbe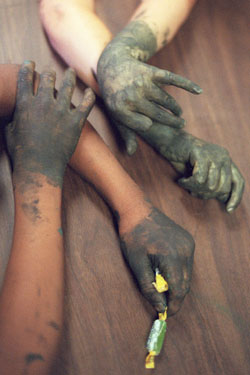 They met dinosaurs and tigers, marched in a parade, sailed a boat, and traveled to an island.
All this, plus a little learning and lots of swimming, filled the summers of the 75 kids in the Keylatch Summer Program, one of 11 summer camps in Cambridge and Boston run by Harvard students through the Phillips Brooks House Association (PBHA). Among the oldest of the PBHA summer camps, Keylatch was founded in 1984 in Boston's South End; it serves 6- to 13-year-olds, primarily African-American and Latino, from that neighborhood.
The camp is headquartered in the basement of Union United Methodist Church on Columbus Avenue in Boston, where the campers gather in the mornings for academics cleverly disguised as games, music, and crafts projects.
In the afternoons, Keylatch campers visit a nearby pool and playground or take the T or a van to adventures outside their familiar neighborhood. This summer, campers took sailing lessons at Community Boating on the Charles, went deep-sea fishing, and visited George's Island in Boston Harbor; they'll finish the summer with a three-day overnight camping trip. The kids visited enough cultural spots to make even an intrepid tourist swoon: Boston's Children's Museum, the Science Museum, Franklin Park Zoo, the Museum of Fine Arts, and Harvard's own Museum of Natural History.
After nearly two decades, Keylatch is woven into the fabric of the South End. Some of the campers are second-generation Keylatchers and most of the teenage junior counselors grew up as Keylatch campers.
This year, Sherezada Acosta '01 and Ayirini Fonseca-Sabune '04 are Keylatch's directors, overseeing everything from curriculum development and license compliance to juice and Band-Aid distribution. They spent much of spring semester preparing for Keylatch, securing a site and hiring staff. Because each camper pays only $55 tuition, Acosta and Fonseca-Sabune put considerable effort into fundraising and getting free admissions to museums and attractions.
"It's a challenge, but it's rewarding," said Acosta, an environmental science concentrator who wants to teach and one day open her own school. "I get about 30 hugs a day. That makes it all worthwhile."