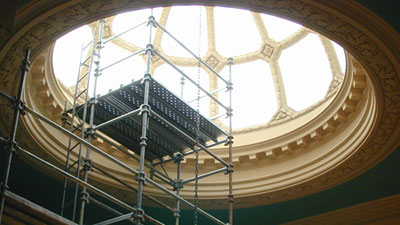 In preparation for Phase 2 of the Widener Library renovation project, scheduled to begin this fall, scaffolding has been erected temporarily in the library's lobby to aid architects in gathering preliminary information pertaining to the original structure of the building.
Many aspects of that structure are not indicated on the architectural drawings from the early 1900s, says Jonathan Balas, architectural associate of Einhorn Yaffee Prescott Architecture and Engineering, who serves as project manager for the Widener renovation. And while much information and many photographs were found in the Harvard Archives, more specifics are needed to achieve the goal of restoring Widener Library to its original design.
"This exploratory work is all about gaining information," Balas says. "The more information we have, the better and more accurate our drawings and planning will be."
Architects are looking at three specific aspects of building structure during this exploratory work, and information they get from it will help them to design the new building systems and determine the best location for them, as well as offer clues as to what kinds of restoration will be appropriate.
Before they can create drawings for the project, the architects needed to determine the exact location and size of ceiling beams. This way they can measure the space available to hide the new building systems, such as HVAC ducts and sprinkler piping, which are needed to comply with the current code. The measurements taken since the scaffolding went up the week of June 11 have given architects a good idea of the space available to them, Balas says.
While measuring the space within the ceiling, architects also looked at the types of moldings featured on the ceiling and took tiny sample chips of the paint used when Widener Library was constructed at the turn of the 20th century. These paint chips, Balas explains, will be sent to a lab for analysis to determine the exact color and shade of paint used. Once the results are determined, the architects will be able to precisely match this color with paint available today and use it in the restoration efforts.
Lastly, architects are taking a close look at the lighting currently in place, some of which is still original, such as the chandeliers in the Widener Rotunda and above the first-floor staircase. It is important to know how it was constructed because it will need to be rewired during the renovation project, Balas says. The original fixtures will be restored and at the same time brought up to current lighting standards.
Exploratory work in the Widener Lobby was completed the week of June 25.