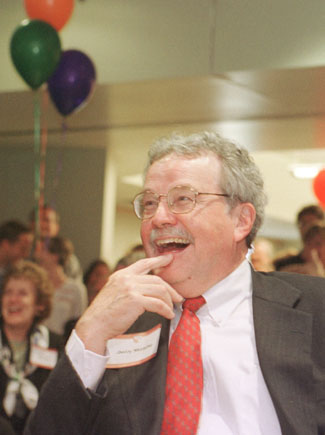 There was no ribbon at the ribbon-cutting ceremony for the Harvard Graduate School of Education's (GSE) new Learning Technologies Lab on May 31.
Instead, the state-of-the-art facility – the single largest renovation in the history of the school – was launched in a more appropriate way: with a virtual ribbon sliced by virtual scissors. GSE Dean Jerome T. Murphy even exhorted participants to raise a virtual glass of champagne in celebration.
The Learning Technologies Lab sprawls across the entire third floor of Gutman Library. Features of the facility include lab space for experimentation in new learning media, flexible classroom space for learning and teaching with technology, and a wired walk-in center for faculty and students to work individually and collaboratively. Murphy describes the lab as the "missing link" in the School's research and teaching facilities: a central space for experimentation and study linked to cyberspace.
Murphy led a virtual tour – dubbed "From Sesame Street to Cyber Street" – of the not-quite-finished lab. Acknowledging that "there are no silver bullets for improving education," including computers and the Internet, Murphy demonstrated how the lab would emphasize learning through technology and discover practical applications for technology. He compared this initiative to another landmark effort to harness technology for learning: the GSE's involvement in the creation of "Sesame Street."
"The best education is, and will remain, human education, but we all know that human education has had a number of instruments to make it better," said President Neil L. Rudenstine at the ceremony. The Learning Technologies Lab, he said, is one more tool – albeit a very powerful one – to boost the power of teaching and learning.
Greetings and farewell
Although equipment was absent and the carpets were but two hours old, the Learning Technologies Lab made its public debut last week because, as Murphy said, "Frankly, I wanted to celebrate it while I was still Dean." Murphy steps down this month after leading the GSE since 1992. After dedicating the lab, Murphy turned the afternoon's celebration over to his colleagues, who roasted their leader with tributes both laughable and laudatory.
Murphy requested that his final fete avoid treacle and sentiment. His colleagues took that to heart, sending him off with a multimedia roast that featured video, song, and poetry. A "CNN" special news report, hosted by GSE Director of Media Relations Christine Sanni, probed Murphy's influence in the school, from his management style and boundless energy to his annual role as Santa Claus. The Dean's Office Plus Quartet sang "My Wild Irish Dean," and Associate Dean for Program Development Darryl Smaw crooned "Raising Money," a send-up of Murphy's fundraising prowess, to the tune of "Makin' Whoopee." Lecturer Terry Tivnan donned a cat-in-the-hat-style top hat to recite a Seuss-inspired poetic tribute to Murphy.
Dean for Administration and Academic Services Joel Monell strayed briefly from the hilarity to chronicle some of Murphy's accomplishments, including his leadership of the school's record-breaking $111 million capital campaign. "But his greatest legacy," said Monell, "is the way he treated people."
After a year's sabbatical, Murphy will return to the GSE and continue to teach as the Harold Howe II Professor of Education. Rudenstine is expected to name an interim dean shortly.
Contact Beth Potier at beth_potier@harvard.edu