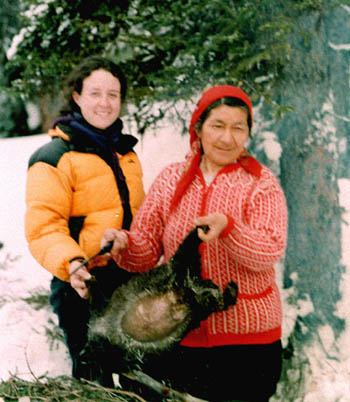 The snow was compact and the toboggan glided to the snowmobile trail head more easily than I had expected. I had a plastic sled with an unwaxed snowboard mounted on the bottom, and over 120 pounds in gear and supplies, enclosed by a brown tarp tied to the device with a thin nylon cord. The others – the Innu participants – had wooden or aluminum toboggans with belongings twice the weight of mine tightly roped down and covered with anything from recycled canvas strips to clear plastic. It occurred to me later that the Innu walkers were going to live in the country (nutssimat), while I was only prepared to camp. Unlike with our gear, for the most part we were all dressed uniformly, with handmade caribou moccasins and snowshoes prepared by a number of elders – technologies that would outlast our synthetic equipment. We had all made it to the trail outside of Happy Valley, and our 150-mile walk to Minipi (pronounced Mananipi in Innu) was to begin.
Thus starts a paper written by Erin Hasinoff, who will receive a master of theological studies degree from the Divinity School (HDS) today. While her classmates were taking midterms and going on spring break, the 24-year-old Hasinoff spent the month of March with a dozen members from the Innu settlement of Sheshatshiu, Labrador, skinning beavers, cleaning porcupines, starting fires on snow, collecting and weaving tree boughs, and snowshoeing 10 miles a day in 7 to 12 feet of snow with a toboggan strapped to her back. Her aim? To begin to learn the "old ways" of the Innu people as an act of political witness and to help bring a sign of hope to a beleaguered community.
The "Innu Walk to Protect the Earth" was organized by Tshakuesh Elizabeth Penashue, an Innu elder in her late 50s, to serve several purposes. First, it was a peaceful protest against the bomb testing and low-level flight that's been conducted by NATO on Innu homeland since the early 1980s. It was also a demonstration against the disputed Lower Churchill Falls dam project and the Voisey's Bay (nickel) mining and logging enterprises in Nitassinan (Labrador). "All these activities … have harmed Innu land and prevented their access to it," Hasinoff said, "so we were snowshoeing to protect the Earth."
Second, the walk was intended to educate Innu and non-Innu about the traditional knowledge of the Innu as they used to live in the country before the 1960s, when this seminomadic people were forcibly "sedentized" by the Canadian Government. "We created tracks to show in a concrete, visible way that the Innu have not lost their traditional knowledge and that this knowledge is key to the persistence of the Innu culture," Hasinoff explained. The Innu are the easternmost group of a widespread group of indigenous people known as the Cree, who have inhabited eastern Quebec and Labrador for 2,000 years.
Third, the walk "was to encourage the healing of its participants, many of whom are alcoholics, former alcoholics, and recovering gasoline-sniffing youth," Hasinoff said. Recent news coverage has focused on the high rates of alcoholism, solvent abuse, and suicide among the 1,500 Innu people of Labrador, calling it a "community in crisis." Yet this walk was meant to be a "meshkanu," a path to recover the integrity of Innu society – not to romanticize the past but to point a way forward out of the community's current plight.
"The whole walk, all 25 days, was about creating a new way, a healthy way," Hasinoff said, "but in order to do that, we couldn't run away and create some idealized community. We walked with it all, with people trying to leave the bottle behind, people struggling in all sorts of ways, including one trying to leave the stress of Boston behind."
Hasinoff's own path to involvement with the Innu started in fall 1999 when she attended a talk at the Peabody Museum about the impact of hydroelectric dams on the Innu. "I had never heard about the Innu, even though I'm from Alberta, Canada," she said. At that time, Hasinoff noticed that a Cambridge-based group called Cultural Survival was working to support indigenous human rights and sovereignty issues, so when it came time to choose a field-education site (a requirement for her at HDS), she thought, "Aha, this is my chance to work with Cultural Survival."
She interned at Cultural Survival, where she helped plan a fall 2000 Student Conference on the Innu. In preparation for the conference, she and another student traveled to Nitassinan. In meetings with Innu leaders they discovered that the Innu "did not want to be advocated for, but wanted to be listened to, so that non-Innu could really appreciate what their roots are and where they're heading." To do this, the leaders "wanted Innu to be a part of the conference in a real exchange, especially since they felt that Innu children need to see for themselves that there are opportunities outside of Labrador."
After this consultation, Hasinoff and her Cultural Survival colleagues changed the conference, adding a kids' conference, organizing a public forum with Innu participation, and emphasizing "justice before reconciliation in indigenous human rights." During this time, Hasinoff came to know Elizabeth Penashue and her family, including her son, Jack Penashue, who runs a youth treatment center. When Hasinoff visited Labrador, the elder Penashue took Hasinoff to the periphery of bush country, where she shared her idea to organize a symbolic and practical trip into bush country starting the following spring as a method of indigenous revitalization. She invited Hasinoff to join the trek.
Meanwhile, Hasinoff read everything she could find about the Innu people. She discovered that they are in a unique situation because "they were not federally recognized as a tribal entity" and "do not have treaty relations with the government." This standing has meant that the Innu have not been able to access a full range of funding and services that are available to other First Nations peoples in Canada, but it also means "they can push for something different." The Innu nation is currently engaging in treaty negotiations with the federal and provincial governments to provide formal recognition of its aboriginal title to lands in Labrador.
Hasinoff will tell you that the months of reading and preparation were nothing compared with the knowledge she gained from 25 days spent in the bitter cold, when she performed tasks as varied as cleaning porcupine and weaving tree boughs for a tent that had to be broken down each morning and reconstructed each night. "With little English being spoken, I learned by observing," she said. "That is the Innu way, to teach by showing, and then you are asked to do it." This approach meant having to make her own mistakes, and Hasinoff soon learned there were certain ways tasks were to be done, and these ways were related to religion.
"When a porcupine is killed, it needs to be cared for properly," Hasinoff explained. "It needs to be cleaned within a day, and everything not used has to be burned, including the bones. If it is not treated properly, then the animal master will not allow porcupine to come back again, and you won't get another." Elizabeth always thanked the trees used in the construction of the tent, and "everything returned to the earth," Hasinoff said.
A vegetarian, Hasinoff had no choice but to eat meat on the trek if she was going to survive and keep up her strength, but she found that eating porcupine and partridge was not onerous. "Pocupine tastes like trees," she observed, "and so does partridge. The meat actually tastes like spruce. If any vegetarian had to choose meat to eat, these would be the ones."
Hasinoff soon realized that the rules and rituals she was expected to observe were all about showing "respect and reciprocity" to animals and the land while encouraging a sense of confidence and responsibility among the human walkers. "The tasks were never-ending, and all we could focus on was doing them and staying warm," she said. "This was so confidence-building for all of us, as we became better at the tasks and more valuable community members."
She also found the Innu ways to be spiritually transforming. "Going on such walks does a lot for your soul," she reported. "I found myself focusing intensely on the simplest of tasks, like lighting a match to build a fire." She wrote in her journal: "I became attuned to what all of the excesses in my life are, material and social. … I found it easy to leave things behind, and instead rejoiced in keeping warm. … I wondered how much of the stress in our lives is due to the fact that we are not given a chance to focus on the details; the things that sustain us."
Finally, she says, the walk showed her the importance of families. "Here was one extended family able to walk in the woods for 150 miles and never get cold," Hasinoff noted. The lesson she brought back to Cambridge, she said, is "if we're going to be social activists, we need to develop strong families, strong friendships, and a sense of place. That is where we need to start."
Hasinoff said this means that non-Innu people and people who live in cities need to "feel an attachment to the land" and "dedicate themselves to preserving and protecting it." This includes "treating our gardens and homes and yards with respect."
The "really good lesson in community healing and community making" she experienced in March has also changed Hasinoff's ideas of what she might want to do in her life. She has always been interested in working for a museum, and recently started a job with the Museum of Natural History in New York City, but she said she will bring a different perspective to museum work now and "plans to continue writing about the walk" as well as working for indigenous human rights. She also feels strongly that the Divinity School and all educational experiences should "put to test what is learned in the classroom" by requiring fieldwork like hers. "A field setting can really redirect personal, academic, and professional goals," she said.
David Little, director of the Center for the Study of Values in Public Life at HDS and the Dunphy Professor of Religion, Ethnicity, and International Conflict, teaches "Religion and Human Rights." He concurs on the importance of the trek.
"Erin Hasinoff will undoubtedly make an important contribution to one of the liveliest and most important questions in the human-rights field, which is the idea of group rights, particularly as they apply to indigenous peoples," Little said. "Her recent trek in Labrador with a group of Innu people intent on recovering their land and their 'old ways' provided her with compelling insights regarding the rights of groups like the Innu, as well as the kind of policy that makes the most sense."