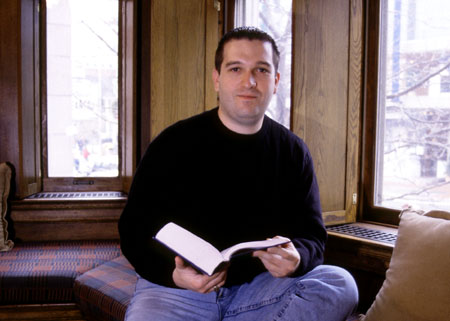 Santiago Creuheras, who graduates today (June 7) with two master's degrees (a master of liberal arts in history and a master of liberal arts in government) and a certificate of special studies in administration and management from the Harvard Extension School, has been pursuing what often seems a highly improbable path toward his goals. It is this path that has led him from Mexico to Washington, D.C., to Cambridge and the Harvard Extension School.
Creuheras' postsecondary education began at the Universidad de las Americas, Puebla, where he earned a bachelor's degree in economics in 1997, completing an honors thesis on competing long-distance telephone services in Mexico.
His next step was to look for work in Washington, D.C., as an intern for a U.S. congressman, senator, or other high-ranking political figure. He wanted the opportunity to see the inner workings of the American political system at first hand. The first reply to his inquiries arrived from the office of Jesse Helms. No opportunities were available. Other offices responded negatively or not at all. There were too many applicants, some said, and too few positions; internships were rare enough without awarding them to a noncitizen.
Eventually the office of Congressman Joseph Kennedy called for an interview. Creuheras was offered a job, and in May 1997 he settled in Washington, D.C., and began serving the Eighth District of Massachusetts. He assisted in press conferences, wrote memoranda on legislative issues, and conducted research in the Library of Congress. During the congressional recess in August, he worked at the Mexican Embassy.
While an intern, Creuheras toured Boston, a city he knew to be very prominent in American education. It was there he first learned about the Harvard Extension School and its master's of liberal arts program (A.L.M.). In January 1998, he began the A.L.M. program with a concentration in history.
Impressed by courses offered throughout the University, Creuheras took classes not only at the Extension School but also at other schools within the University – the Graduate School of Arts and Sciences, the Business School, and the Kennedy School of Government – and at the Massachusetts Institute of Technology as well.
Creuheras concluded his master's degree in history in November 2000 with a thesis on immigration and integration of the Poblano sub-diaspora in the United States, directed by John Womack, Robert Woods Bliss Professor of Latin-American History and Economics. In March 2001 Creuheras completed all requirements for the graduate certificate of special studies in administration and management, and today accepts his master's degree in government. His thesis, directed by Pippa Norris, lecturer in public policy at the Kennedy School, focuses on the Mexican transition toward democratization in the 20th century.
Creuheras' journey to America has now come full circle. He was recently appointed director of internships at the David Rockefeller Center for Latin American Studies. In this position he assists Harvard students from the United States who want to intern in Latin America, a desire familiar to him as he once sought an internship in a foreign country.