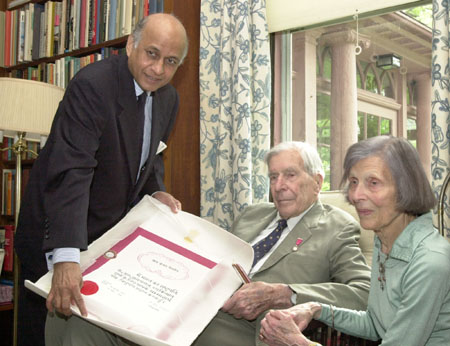 John Kenneth Galbraith has received India's second highest civilian award, the Padma Vibhushan, comparable in importance to the U.S. Congressional Medal of Freedom.
The award, signed by K.R. Narayanan, president of India, was presented Monday, June 11, at Galbraith's home by Lalit Mansingh, India's ambassador to the United States. Also present were Galbraith's wife, Kitty, and Lochi Glazer, wife of Nathan Glazer, professor of education and social structure emeritus, and a friend of both Mansingh and the Galbraiths.
Galbraith, the Paul M. Warburg Professor of Economics Emeritus, served as an adviser to the planning commission of the government of India in 1956. From 1961 to 1963 he was U.S. ambassador to India under President Kennedy.
Mansingh presented Galbraith with a scroll written in Hindi. As the ambassador does not read Hindi, Galbraith asked his housekeeper of 23 years, Sheila Karintikal, to read the inscription in the original language. Mansingh then read an English translation: "I, the President of India, for your personal qualities, am conferring on you the Padma Vibhushan."
Galbraith also received two decorations – a large medal and a smaller lapel pin.
Galbraith, 92, is recovering from the effects of a fall and excused himself for not getting to his feet to accept the honor.
"Nothing gives me greater pride than looking back on my two excursions to what we shall one day call not only the world's largest democracy, but also the world's most successful democracy, both politically and economically," he said.
"You were a great ambassador," Mansingh said. "We remember you with fondness and love."