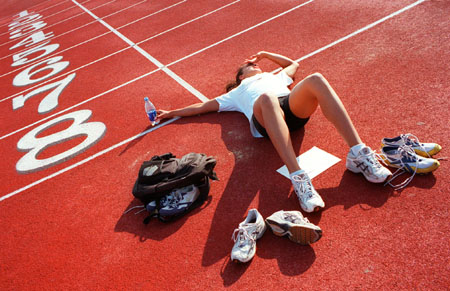 The accolades keep rolling in for Women's Track and Field Team co-captain and Harvard senior Brenda Taylor.
On June 1, Taylor won the NCAA national collegiate championship in the 400-meter hurdles with a personal best time of 55.88 seconds, the fifth-best time in the world this year. During the same meet, held at the University of Oregon, she also secured her third All-America honor.
"You go through so much in four years here, working hard every single day. You do it so that at that critical moment you can do what you have to do," Taylor said.
The All-America award came just days after the announcement that she had won the 2000-01 Honda Award, given annually to the nation's top female track and field athlete.
To cap it off, today she gets her Harvard degree with concentrations in psychology and biology.
"A lot of people have the talent, but she has dedicated herself to be a good hurdler, which is extremely hard to do here, with the academic pressures," said associate track coach Walter Johnson, who attended the National Championships with Taylor. "The dedication she has shown over the past four years has paid off."
Though Taylor is interested in psychiatry and plans to attend medical school, after four years of juggling running and studying, she said she wants to focus on running – not school – after graduation.
"I want to run for a while. There's no way to do that and go to medical school," Taylor said, adding that she thinks she still has room for improvement. "I feel like I have a long way to go."
An improved Taylor will be a force to be reckoned with. Already this year, she has twice broken her own school record. At the Penn Relays, Taylor ran what was then the fastest time in the United States this year and broke the Harvard record she set at last summer's Olympic trials.
Though she didn't make the 2000 Olympic team, she has an eye on the 2004 Olympics, to be held in Athens.
"It's hard to say where I'll be in four years, but it's definitely a goal of mine," Taylor said.
Johnson is convinced an Olympic berth is within Taylor's reach.
"If she does continue to run, where her primary focus is running, she could well be one of the best hurdlers in this country. I wouldn't be surprised at all to see her on the next Olympic team," Johnson said.
Runs in the family
Taylor, who grew up in Boone, N.C., has always been athletic. She began gymnastics at age 5, and swam, played volleyball, and ran track in high school. She was good enough in high school to qualify for the Junior Nationals after her senior year, though a stress fracture hampered her performance.
Taylor's athleticism runs in the family. Her twin sister, Lindsay, is also an accomplished athlete – in the heptathlon. Though the two are close, after spending their childhood together, they decided to be apart for a while. Lindsay went to Brown University, while Brenda headed to Harvard.
"If we can finish 1-2, that makes us happy," Taylor said. "But then the question is who is first and who is second."
With four hours a day spent practicing, track has been a large part of Taylor's Harvard experience. Even so, she said she's been able to make time for both studies and a social life.
"I feel like having the discipline of athletics helps me create time when it doesn't exist," Taylor said.
Taylor's collegiate track career hasn't been trouble-free. Injuries hampered her performance in her freshman and junior years. Taylor cites her sophomore season as her "breakthrough" year. She ran fast enough to qualify for the National Championships in the 400-meter hurdles and garnered her first All-America honors.
She pulled a hamstring muscle in the spring of her junior year. That injury hampered the end of the season, but she recovered enough to attend the trials for the 2000 Olympic games, where she set a school record of 56.64. She placed 11th , however, out of the top four who made the team. Taylor said the experience was valuable because she realized for the first time that she could run on the same track as the nation's best.
"I've known for a long time I could run a lot faster than I'm running," Taylor said. "There's always something that gets in the way."
Up next for Taylor are the nation's best hurdlers. Taylor plans to attend the U.S. Track & Field Championships, scheduled for the end of June at the University of Oregon. Several national teams will be chosen there, including those heading to the World Championships in Edmonton in August and the Goodwill Games in Australia in September.