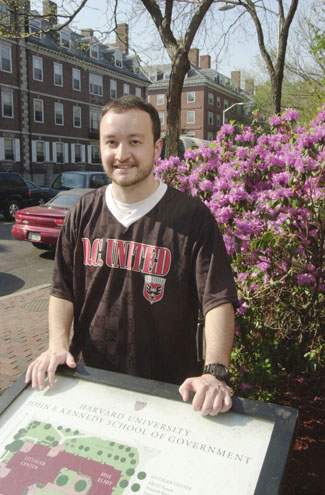 Like most students at the Kennedy School of Government (KSG), John Daggett M.P.P. '01 is committed to the idea of working in the public sector. Someday, he believes, he'd even consider running for public office. But the realities of launching a career in the federal government are causing him some consternation.
"There are lots of federal jobs that do lots of important, interesting work," he says. "But the impression I sometimes get is that you can only get them if you spend a career in civil service or, worse yet, stumble into them unwittingly."
That sentiment, coupled with the prospect of earning six figures in the private sector, often lures students like Daggett off their intended career track. But for now, Daggett, who is concentrating in business and government policy and international security, is keeping his sights set on Washington, in large part because of the Presidential Management Internship (PMI) program.
The PMI program, established by executive order in 1977 and administered by the U.S. Office of Personnel Management (OPM), is designed to attract the best and brightest graduate students from all over the country into federal service. Throughout the years, PMIs from KSG have landed positions in dozens of federal agencies and cabinet departments, including the departments of State, Commerce, Education, Justice, Housing and Urban Development, as well as NASA, often rotating between agencies to get a taste for different work environments.
Daggett is one of 35 PMIs chosen from KSG this year, equaling the largest number ever selected from the school. He and the other finalists have until Dec. 31 to select a position of their choice. Their salaries are guaranteed at the $36,000 level for year one, with an increase to $44,000 during year two. From there, the PMIs are eligible to advance to the next salary level, $53,000.
"That's fairly rapid advancement for the federal government," says John Noble, director of career services at KSG. "And once they're in their career positions, they can move even higher up in that organization."
Steering KSG students into the public sector is taking on a new sense of urgency at the Kennedy School. Just one in three current younger graduates goes to work for their government. Twenty years ago, 75 percent of them did. Combined with an aging federal workforce, in which 30 percent of employees are facing retirement, there is growing concern that the quality of future government service is in jeopardy.
The PMI program is designed to help meet that impending labor crunch by placing bright, ambitious students into responsible government positions straight out of graduate school. A select number of finalists will be deemed Volcker Presidential Management Interns, named for Paul A. Volcker, the former Federal Reserve Board chairman who donated $50,000 to support the PMI program.
The starting salaries aren't great, says Adam Mocciolo M.P.P. '01, another PMI finalist, but he believes the program will accelerate his career. "I figured this would be a fast track into government – a way to get a job with some meaningful responsibility and at a more challenging level of work than you can usually get when you're graduating."
Mocciolo, who is concentrating in political advocacy and leadership, is attempting to land a position at either the Office of Management and Budget (OMB) or the Office of Secretary of Defense (OSD). Better yet, he's hoping to spend time working at both agencies. "Apart from the fact that you're given more responsibility at the get-go, you're also given more opportunity to learn on the job," he says.
Eva Shinagel M.P.A. '01, another PMI finalist from the Kennedy School, is excited about the possibility of finding a job in international relations. She's focusing her job search on the State Department and the Department of Defense.
"The PMI program creates a place within the governmental system for people who know what they want to do, [allowing them] to enter those [positions] a little more easily and a little more flexibly," Shinagel says.
"It's a unique opportunity to gain entrée into a bureaucracy that would be a lot more difficult to enter without it. … It's a great way to get your foot in the door and a way to gain experience."
The experience comes at a price, Shinagel admits, but she believes it will pay off in the long run. "I'm not in it for the money. … The salaries could be a little higher, but if you can manage it, I think in the end it's very much worth it. It puts you in places that you couldn't have gone into on your own."
Noble says Shinagel's attitude is emblematic of this year's class of PMIs.
"They share a common commitment to public service when they come into the Kennedy School, and I think they maintain that commitment throughout their two years here, and they see this as an ultimate resolution of their plan," he says. "They are convinced that they can make a difference. That's the common denominator that drew them here [in the first place]."
The 35 KSG students selected as PMI finalists this year represent 5 percent of the nationwide total. "The Harvard community has always been very supportive of the PMI program," says Kathleen Keeney, who directs the program for OPM. "[KSG] has continually ranked among the top schools in both the number of applications and the number of finalists."
Not all finalists find the government jobs they want. Others drop out of the program if they land another position elsewhere. But Keeney says those students who do find jobs with the federal agency of their choice are often very successful.
"The students who come out of the Kennedy School have always been well prepared and have a lot of enthusiasm," she says. "They certainly have a wide array of career experiences that they bring to the table in addition to their education and they always do well."
As he contemplates his impending career in public service, John Daggett is anxious to put the lessons he's learned at the Kennedy School to work in Washington.
"I'm excited about many of the opportunities I see," he says. "I'm looking for something that is dynamic. I want to be leading and managing people. I certainly don't want to be stuck behind a desk. I'm hoping to find the right job that gives me all those things."