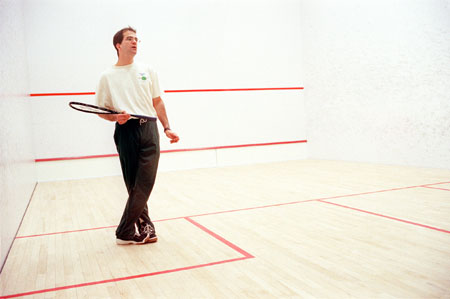 Staff photo by Kris Snibbe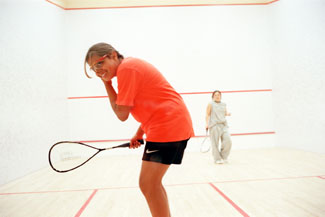 The Boston Living Center is always a little hectic right before lunch when volunteers get things ready for the 75 to 100 members who will drop in for food and the fellowship of others who have HIV/AIDS. But on this sunny Saturday in April, it's downright crazy.
Ilham and Alexis are over in the drinks corner carefully measuring out water to add to the orange juice mix. Nick and Steve are sorting utensils by size in silver bins, while Ingrid and Jaspreet fill plastic containers with sweetener, condiments, stirrers, and straws. Chanel takes quick, teeny steps across the room, concentrating hard on not spilling a drop of the gigantic bowl of fruit salad she's carrying in both hands. Saul and Pedro wash down the countertops and take turns mopping the floor, as Amanda and Kerri unwrap pastries to place on the dessert table. Other kids clean tabletops, help in the kitchen, take instruction on how to serve from the hotplates, organize cabinets, and generally make themselves useful.
"I've never seen so many people helping out!" says Jim, a Living Center member and volunteer.
What's the occasion? Just part of the routine – albeit a fun part – for the Squashbusters, a group of sixth-, seventh-, and eighth-graders from the Harrington Elementary School and the James P. Timilty Middle School who have embarked on an ambitious three-year extracurricular program combining academics, mentoring, and community service with a sport many of them had never heard of until Greg Zaff came along: squash.
Zaff, who was a top-ranked amateur squash player at Williams College before turning pro in 1985, founded Squashbusters five years ago to use the sport he loves "as a vehicle for making a major difference in the lives of urban kids." Ninety-five percent of the program's participants qualify for school-lunch programs, 50 percent speak English as a second language, and many live in Boston Housing Authority apartments.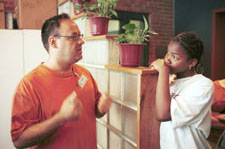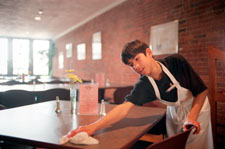 Above left, Squashbuster Ingrid Delva, a sixth-grader at the Timilty School, talks with Michael Pelletier, a Boston Living Center volunteer coordinator. Above right, Saul Garcia, a sixth-grader at the Timilty School, wipes down tables before lunch at the Boston Living Center.
The program is four-tier: the kids play squash three times a week, get academic tutoring twice a week, do community service once a month, and can request a mentor, with whom they must meet at least two days a month.
For the Harrington School kids, the squash part happens at the Harvard Club in Boston, where they come twice a week to learn the fine and fierce skills of this challenging game. The Timilty School students play at the Boston YMCA's central branch. And on Saturdays, kids from both schools come together at the Murr Center to play in the state-of-the-art courts at the modern facility. In all three venues, the kids also spend time with tutors.
Despite all this work, the program has become quite popular; about three kids try out for every one spot on the Squashbusters team. According to Mary Beth Horn, director of academics and community service, participants are chosen not on the basis of athletic ability or grades, but rather because of the motivation, effort, and cooperation they show. When they make the team, Horn says, "sometimes you have to pull the phone away from your ear, because they whoop and holler so loud."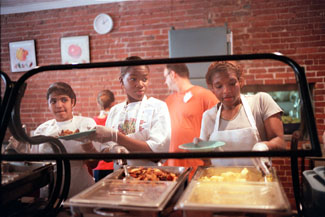 Horn meets regularly with the kids' parents and teachers to chart their progress and address any problem areas. She also finds herself invited to squashbuster homes for Christmas, birthday parties, and Sunday services. "It's a 24-hour job," she says. "The line between work and life gets very blurry. I work on Sunday evenings because a kid will call and want to play squash, or come over to your house and just hang out. But they become your friends, and that's what you do with friends."
In addition to its five full-time staff members, the organization also has hundreds of volunteers. David Smoyer, a retired educator who graduated from Harvard Law in 1966, has been tutoring Squashbusters kids for three or four years. "The kids are doing the right thing and are trying," he says. "And I'm doing what I can to give them some help. Maybe it's only a little bit, but enough of us doing a little bit adds up."
But what does it add up to, exactly? "There are so many different kinds of success stories," says Zaff, "that it's hard to give quantitative data." Still, the numbers are impressive. In addition to the 25 to 30 community service projects the Squashbusters kids have worked on, eight Squashbusters graduates have gotten into private high schools on academic scholarship, and more than two dozen have achieved a state or nationwide ranking in squash.
"Squashbusters is an excellent program," says 16-year-old Princess Williams, a 1999 Squashbusters graduate and a sophomore on scholarship at the Beaver Country Day School. "It broadened my horizons and encouraged me to work harder. It's sort of like life, in a way. With squash, you don't excel when you first get into the sport – you're going to miss the ball sometimes, it goes over your racquet, sometimes it can even seem boring. But when you stick with it you get better at it, and that's how life is. Things don't always go the way you planned, but when you stick with it, and keep trying, eventually you'll succeed at it."