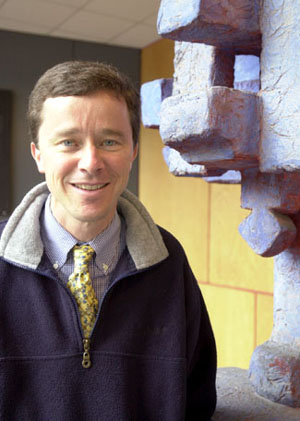 Dean of Harvard College Harry R. Lewis has announced the appointment of Jack Megan of Concord as the next director of Harvard's Office for the Arts (OFA). Megan, who will take up his new duties in July, succeeds founding OFA director Myra Mayman, who is retiring next month.
Robert Kiely, Donald P. and Katharine B. Loker Professor of English and chair of the selection committee that recommended Megan, said, "Jack Megan struck me and all the members of the search committee as an exceptional person for Harvard and the arts. He has spent his professional life working with artists, encouraging young performers, and involving himself in institutions devoted to arts education. He is bright, amiable, outgoing, open-minded, and seemingly full of energy. He will be a great addition to the Harvard scene."
"I'm so pleased that Jack Megan will be joining us as director of the OFA," added Dean of the Faculty of Arts and Sciences Jeremy R. Knowles. "He is himself a composer, pianist, playwright, and performer in both theatrical and musical productions. With such an eclectic leader, we can be assured of the continuing success of the Office for the Arts, which so splendidly serves our students and enriches the community."
Megan, a 1980 graduate of the College of the Holy Cross, holds a master's of fine arts in arts administration from Columbia University. He comes to Harvard with more than 15 years of experience in arts management. He served as director of development of the Santa Fe Chamber Music Festival from 1984 to 1986, and joined the administration of the Longy School of Music in Cambridge in 1986. During his 12-year tenure at Longy, he was associate director of the school for a number of years and was eventually elevated to executive director. In that time, Longy's enrollment more than doubled; a master of music program was established; a capital campaign was mounted and eventually exceeded its goal by one-third; and the school enjoyed 12 successive years of operating surpluses. In June 1999, Megan received Longy's Distinguished Service Award, and a scholarship fund was endowed in his name.
Megan was program director of the Boston-based Fidelity Foundation from 1999 to 2000, with responsibility for evaluating grant requests, working with managers of nonprofit organizations, and making recommendations for grant activities to Fidelity's senior management. He is currently an independent consultant to nonprofit organizations in the Boston area. Megan also is a professional composer, pianist, playwright, and music director. He and his wife, Sarah Gray Megan, live at the Middlesex School in Concord, where she is music department chair. They have two children.
As director of the Office for the Arts, Megan will lead a 50-person staff of instructors and administrators whose mission is to develop student participation and direct involvement in the arts, and to integrate creative thinking and expression into undergraduate learning. The OFA supports programs in music, dance, theater, and visual arts, including management of a ceramics studio and several rehearsal/performance facilities. The office also oversees Arts First, an annual, campus-wide arts festival.