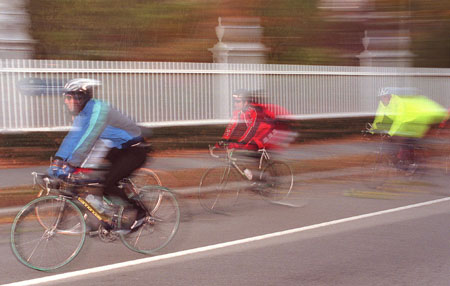 The air may be thin in Colorado, but it will be fresh and sweet this weekend to members of the Harvard Cycling Team, which will be making its first-ever trip to the National Collegiate Road Cycling Championships in Colorado Springs.
Harvard cyclists placed high enough in the season's last meet April 29 in Burlington, Vt., to give the team a fifth-place finish in the Eastern Conference – high enough to put them in the national finals for the first time.
The trip will be particularly gratifying for the many club members who have toiled for several years without a postseason trip. Seven of the team's 40 regular participants are making the trip, four men and three women. Six of the seven are graduate students. The seven are Tamara Metz, Jacob Proctor, and Abe Stroock, all students at the Graduate School of Arts and Sciences, medical student Chad Connor, Business School student Peter Everett, School of Public Health student Kathy Putnam, and sophomore Julia Oh, the lone undergraduate of the group.
The cohesiveness of this year's team made the difference, according to David Goldenheim, the club's undergraduate president. Goldenheim, a sophomore who is not attending the championships, said that in the past, participation would drop as the season progressed. But this year the team hung together, consistently sending enough riders to meets to perform well as a team.
That cohesiveness is particularly important, Goldenheim said, because the cycling team is one of Harvard's many club sports – which compete with teams from other colleges and universities, but which do so with little University support. Unlike the 41 varsity sports, which have University-paid coaches, uniforms, and facilities, the club sports are largely student-run, financed through fundraising efforts, and have little recruiting power.
"We've really worked a lot this year toward having a more unified team, toward keeping people interested," Goldenheim said.
In addition to the team hanging together this year, Goldenheim said two groups really stepped up: the veteran riders who have been in the club a few years, and women cyclists.
Goldenheim said the team has about 170 members on its e-mailing list, but only about 40 are active.
In cycling, riders compete in different categories, depending on ability. Men have A, B, C, and D divisions and women A and B divisions, with A being the fastest. Only riders from the A division are going on to the championships.
Tamara Metz, a doctoral student in the Government Department, is one of the three women heading to Colorado this week. This is Metz's first year with the team so her success came as something of a surprise, she said.
Metz enjoys cycling because it provides a physical counterpoint to her academic work – writing a dissertation about marriage as a political institution in liberal democracies.
"Cycling has been a fantastic and I think productive counter-balance to my 'mind-life,'" Metz said. "It is so immediately rewarding, compared with my [academic] work."
Nathan Drake, a law student who is one of the team's main organizers, said Metz's experience is common.
"It seems to really fill a need in a lot of people's lives at Harvard," said Drake, whose season ended in April when he broke a collarbone in a spill during a race.
For the past few weeks, the racers have been training hard in preparation for Colorado, Metz said, anticipating the thin air and hilly course they'll find.
The championships will be hosted by the U.S. Air Force Academy and held on the academy grounds and in downtown Colorado Springs from May 19 to 21. About 325 racers are expected to attend.
The Colorado competition, like the regular season finale in Burlington, will consist of three races, run separately by men and women. The races will include a criterium, in which racers test their explosiveness and bike handling skills by riding multiple laps on a one mile course. The hour long criterium at Colorado Springs will feature eight turns and be held on Saturday, May 19. The second race, a 72-mile road race, will take place on Sunday. Riders will cover eight laps on a nine-mile course that climbs almost 1,000 feet, to a peak altitude of 7,250 feet.
The last race, to be held Monday, May 21, is a team time-trial in which teams race the clock over a 16.9-kilometer course.
However they fare in Colorado Springs, Metz said this year's finish has already generated a lot of excitement for next year's team.
"Our success has really inspired us, especially the women's team," Metz said. "We are really excited about pushing it next year."