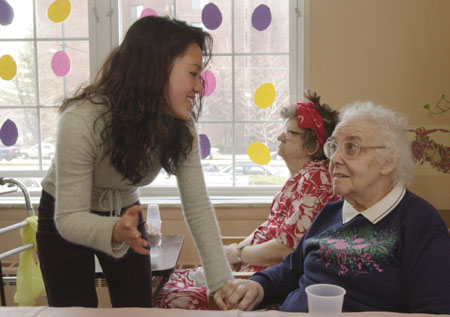 When it comes to the Ivy League, the competitive atmosphere among the best and the brightest – from the intellectual to the athletic – can be thick at times. Rarely does an opportunity arise in which Ivy League students can cooperate toward a common goal. Yet this spring, more than 3,500 Ivy students will do their part in breathing new life into that old air.
For the first time ever, all eight Ivy League schools have organized campus-wide community service days over the same two-week period. This collaboration, known as the Ivy CORPS (Community Outreach and Public Service), came out of the efforts and solidarity of students from the Ivy Council, an organization made up of student government representatives from the eight Ivy League Schools.
Stephen Smith, a Harvard junior, is both the founder and director of Ivy CORPS. "It's a difficult process – coordinating everyone," Smith said, "but it turned out to be a real success,"
Nearly 400 Harvard students, faculty, and staff participated in the inaugural Ivy CORPS event. This past Saturday (April 7) volunteers from Harvard's two-year-old community outreach program – Har'd CORPS – descended upon Cambridge and Boston area parks, shelters, and community centers, for projects ranging from gardening to emceeing Bingo. As 40 volunteers cleared trash from the neglected wooded area behind the Alewife T station, cross-town Har'd CORPS members painted a room at the Hyde Park Community Center. Meanwhile, an army of workers took on a portion of the Southwest Corrider Park, planting and mulching their way up the South End grounds. All told, Har'd CORPS volunteers took on 17 projects, nearly doubling the group's turn-out from last year.
Har'd CORPS is hosting its second spring event with a benefit concert on Saturday, April 14, to raise money for AIDS medicine to Africa. For more information on the concert and other Har'd CORPS events, e-mail lbonner@fas.harvard.edu.