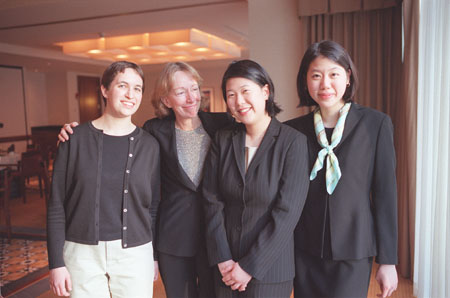 Senior Peggy T. Lim has been selected winner of this year's Harvard College Women's Leadership Award for showing exceptional leadership, contributing to women's advancement, and positively affecting the lives of her fellow students.
An East Asian studies concentrator, Lim has co-chaired the Harvard Women's Leadership Project, been executive editor of "Diversity & Distinction," served as head tutor of the Harvard Program for International Education, and founded the forthcoming "Women's Guide to Harvard."
"Peggy is a real gem and her many strengths were underscored in her letters of recommendation for this award," said Assistant Dean of Harvard College Karen Avery '87.
Historian and political commentator Doris Kearns Goodwin was named the recipient of the Harvard College Women's Professional Achievement Award, because of her "exemplary leadership at a national level."
"[Goodwin] is an outstanding political commentator and it seems fitting that in the wake of this past election year, we honor this woman," Avery said.
The two awards are funded through an endowment established with a gift from Terrie Field Bloom '75. The awards are part of the Ann Radcliffe Trust in Harvard College, which seeks to raise the awareness of women and women's issues at Harvard and beyond.
The student prize goes to a junior or senior who has demonstrated exceptional leadership while at Harvard, has shown the potential for future leadership, has contributed to the advancement of women, and has had an impact on her fellow students.
Honorable mentions for the Women's Award were given to seniors Hannah Choi and Amy Offner. The awards were presented at a dinner Monday night, April 16, at the Charles Hotel.
"We had 59 nominations for the student award this year and we are very excited by the support the award has received from the Harvard community," Avery said.
The selection committee included Avery, Professor of Comparative Religion and Indian Studies Diana Eck, Associate Director and Librarian in the Faculty of Arts and Sciences Office of Career Services Susan Vacca '76, Corinne Funk, emerita member of the Executive Board of the Women's Leadership Project, and Amy Zegart '89, member of the Women's Leadership Project Advisory Board.