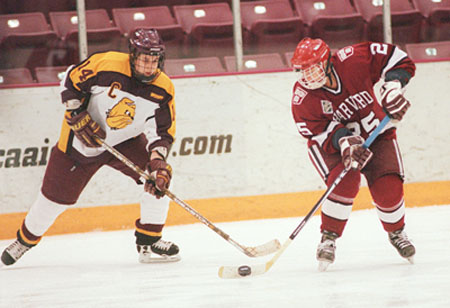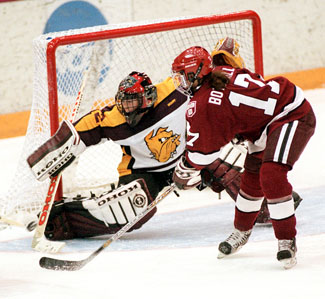 After last month's 3-1 loss against Ivy rival Dartmouth in the ECAC Championship game, and a 6-3 upset in the first ever NCAA Women's Championship Semifinal in Minneapolis versus the eventual national champion Minnesota-Duluth Bulldogs, this season's brilliant Crimson squad found its post-season solace wherever it could, and not surprisingly, in a number of ways.
With the selection of junior Jennifer Botterill as the 2001 Patty Kazmaier Memorial Award recipient, the Harvard co-captain established herself as one of the finest forwards in women's college hockey today. Through 28 games this season, Botterill, who is currently leading the Canadian National Team in goals, ranked second in the nation in scoring with 77 points (41 goals, 36 assists) and led the ECAC in points, goals, power-play points (17) and shorthanded points (6). Her teammate, senior Tammy Shewchuk, was among the three finalists for the award.
A day after Botterill received the coveted award, the Crimson savored some true consolation – and revenge in the process – upending this season's perpetual foe Dartmouth 3-2 in the NCAA Championship consolation game in Minneapolis on Sunday, March 25. With the win, the Crimson took third place among the Frozen Four, ending the season 24-10-0.
Harvard's Jennifer Botterill (#17) fights for the puck in front of University of Minnesota-Duluth's goalie, Tuula Puputti, during the Harvard Women's Hockey Final Four on Friday, March 23. The Crimson lost, 6-3, but won against Dartmouth, 3-2, in the consolation game.
Harvard's right wing, Tammy Shewchuk (#25), keeps the puck away from University of Minnesota-Duluth's right defense, Brittny Ralph (#14).