Knoll receives Chang Ying-Chien Prize
Fisher Professor of Natural History Andrew H. Knoll, an expert on the early evolution of life, has been named the first recipient of the Chang Ying-Chien Prize in paleontology. Established last year and administered by the American Museum of Natural History, the $10,000 award honors lasting contributions to the field of paleontology. Knoll received the prize on Feb. 26 in a ceremony in New York.
First executive director for KSG's Washington, D.C., office named
Marguerite Hoxie Sullivan, a Washington, D.C., resident with federal and state government and journalistic experience, has been hired as executive director of the Kennedy School's Washington, D.C., office, Dean Joseph S. Nye Jr. announced.
"Marguerite is a great addition to the Kennedy School because she knows the inner workings of government," Nye said. "Marguerite will help us enhance our rapport with the nation's public policy makers."
Zittrain named Berkman Assistant Professor of Entrepreneurial Legal Studies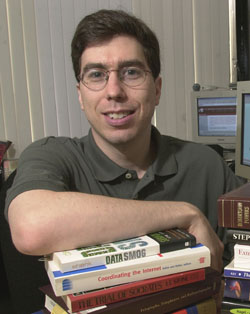 Jonathan Zittrain, assistant professor at Harvard Law School (HLS), has been named the Jack N. and Lillian R. Berkman Assistant Professor of Entrepreneurial Legal Studies.
Zittrain, a noted expert in the emerging field of cyberlaw, joined the HLS faculty as a lecturer in 1997 while serving as the first executive director of the Berkman Center for Internet and Society, a leading research center on Internet trends, technology, and the law. He was named assistant professor of law in July 2000, and remains a faculty co-director of the Berkman Center.
"Jonathan Zittrain is one of the world's foremost Internet and technology scholars," Dean Robert C. Clark said. "This is an area of study in which our students are increasingly interested. The Harvard community will benefit immeasurably by having such a talented scholar hold the Berkman Professorship."
Zittrain's scholarship has focused on issues ranging from digital property, privacy, and speech to the role of private "middlepeople" in Internet architecture. He also has a strong interest in creative, useful, and unobtrusive ways to deploy technology in the classroom. In the fall, Zittrain taught a class titled "Internet and Society: The Technologies and Politics of Control."
A 1995 graduate of HLS, Zittrain also holds degrees from Yale University and Harvard's Kennedy School of Government. After receiving his J.D., Zittrain served as a law clerk for Judge Stephen F. Williams of the U.S. Court of Appeals, District of Columbia Circuit.
The Berkman Professorship is named in honor of the late Jack Berkman, Harvard Law School Class of 1929, and his wife, Lillian.
Radcliffe Institute hosts Bateson reading
Mary Catherine Bateson, a 2000-01 Radcliffe Scholar-in-Residence, will read from "With a Daughter's Eye" (HarperCollins, 1984), her memoir of her parents, acclaimed anthropologists Margaret Mead and Gregory Bateson, on Monday, March 19, at 4 p.m. The memoir, which had been out of print, has recently been re-released. Sponsored by Radcliffe Educational Programs, the reading is free and open to the public, and will take place in the Cronkhite Graduate Center at 6 Ash St.
— Compiled by Andrew Brooks