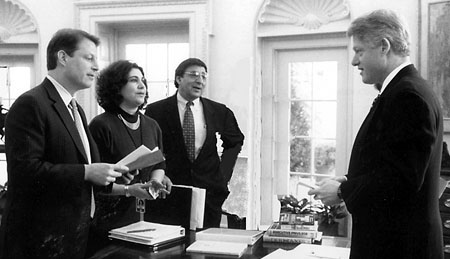 Elaine Kamarck, senior policy adviser to the Gore 2000 campaign, returned to Harvard's Kennedy School of Government (KSG) as faculty-in-residence at the Center for Business and Government (CBG). As a White House insider, Kamarck will share her experience in the classroom and bring that insight to her research at the Center.
"Elaine brings back to the Kennedy School valuable experience, enormous energy, and a wealth of understanding of how to reconcile market efficiencies with social values and political realities," CBG Director Ira Jackson said. "I am particularly delighted that Elaine intends to help CBG pursue the new frontier of e-government and issues related to e-democracy, both domestically and globally."
Kamarck joined the Clinton administration in 1993 and worked directly with Vice President Al Gore to create the National Performance Review, also known as the Reinventing Government Project, which was tasked with reforming, downsizing, and modernizing the federal government. The largest peacetime downsizing project in U.S. history, the Reinventing Government Project reduced the federal work force by 17 percent, saved more than $100 billion, and changed the way of doing business in countless government agencies.
Kamarck also worked on the president's welfare reform task force, and the vice president's Airline Safety and Security Commission. Prior to her work with the Clinton administration, Kamarck founded the Progressive Policy Institute. She joined the Kennedy School faculty in 1997 as director of Visions of Governance for the 21st Century. She took a year's sabbatical to work on the Gore Campaign.
Kamarck's research at CBG will explore emerging forms of government. Her research in this area will focus heavily on the emergence of a post-bureaucratic state, one that governs through the use of markets and networks.
"The global economy has caused nations all over the world to make serious attempts at reforming their government," Kamarck said. "Many of these reforms are similar to ones that I led as part of the Clinton/Gore administration and are highly related to making these countries competitive in the new global economy. This research, with its emphasis on the governmental effects of the new global economy, ties in well with the work at the Center for Business and Government."
In its mission to foster new ways of thinking about the complex interrelationship between business and government, CBG conducts groundbreaking policy-oriented research and develops innovative curriculum. In addition, CBG promotes public understanding by convening business leaders, scholars, policy-makers, civic organizers, and members of the media to discuss critical issues related to the evolving relationship at the intersection of business and government.