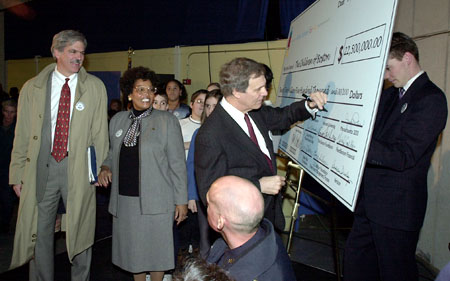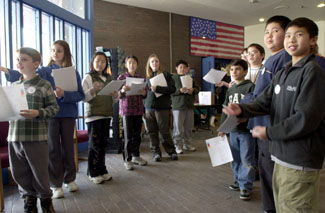 Giving kids something constructive to do between the time school lets out and the time their parents come home is the aim of a new $23 million partnership involving Harvard, the city of Boston, and nine other nonprofit and for-profit institutions.
Representatives of those institutions and local community organizations gathered Wednesday, March 14, at the Jackson/Mann Elementary School in Allston to celebrate the new partnership.
Harvard has pledged $5 million over the next five years to the After-School for All Partnership, contributing to a total figure of $23 million to date for the Partnership as a whole. All the money will be used to support after-school programs and to strengthen the after-school infrastructure in Boston.
"Harvard is pleased to join Mayor [Thomas] Menino and our Boston After-School for All partners in this unprecedented civic enterprise," said Harvard President Neil L. Rudenstine. "Harvard faculty, staff, and student volunteers have a long history of involvement in after-school programs in Boston, but this new commitment of $1 million a year for five years to the Boston After-School for All Partnership will allow Harvard to expand our efforts dramatically."
Mayor Menino said, "This funding partnership will improve children's educational opportunities and expand after-school programs across Boston. I applaud the civic commitment of the community leaders who have joined in this effort on behalf of Boston's young people."
According to Chris Gabrieli, chairman of the After-School for All Partnership, out-of-school time is the next frontier for investing in children and helping them reach high academic and developmental goals. Gabrieli headed Task Force on After-School Time which in May 2000 published its findings in the report, "Schools Alone Are Not Enough: Why Out-of-School Time Is Crucial to the Success of our Children." The report's recommendations were a crucial factor in the establishment of the After-School for All Partnership.
"Considering that children spend only 20 percent of their waking hours in school, we believe that high-quality, high-impact out-of-school activities may be the key to narrowing the achievement gap and to helping all children unlock their full potential," Gabrieli said.
Gabrieli and others mentioned studies showing that kids are most likely to commit or be the victims of crimes in the hours between 2 and 6 p.m., and that getting kids involved in after-school programs is an effective way of cutting down on these numbers. The speakers also mentioned studies showing a correlation between participation in after-school programs and higher academic achievement.
The connection between after-school programs and academic achievement was summed up effectively by one of the speakers, the Rev. Gregory Groover, chair of the educational committee of the Black Ministerial Alliance. Groover spoke of his own childhood in the projects of New York City and the confidence he felt as a result of his relationship with caring adults in various community organizations.
Turning to Rudenstine, Groover said, "Because of your participation, Mr. Rudenstine, our children will look across the river to your great institution and say, 'I will study there someday.'"
Many Harvard students already participate in after-school mentoring and tutoring programs through Phillips Brooks House and other programs such as Project HAND.
Other Harvard programs that will enhance their service to the community as a result of the University's funding commitment include:
The After-School Innovations Grants Program, which will support program start-up and expansion, professional development, evaluation, and small-scale capital improvements in the Mission Hill, Allston/Brighton, and Fenway areas;
The Harvard University Graduate School of Education Program in Afterschool Education and Research (PAER), providing curriculum development, professional development and assessment to neighborhood after-school programs;
The Harvard Children's Initiative, chaired by Judith Palfrey, the T. Barry Brazelton Professor of Pediatrics at Harvard Medical School, which will recruit faculty from across the University to focus on increasing and improving after school programs, as well as coordinate a large-scale volunteer mobilization effort.The following institutions have pledged funding to the After-School for All Partnership in amounts to be paid over the next five years: an anonymous private family foundation ($2.5 million); the city of Boston ($5 million); the Boston Foundation ($2.5 million); FleetBoston Financial ($1 million); Harvard University ($5 million); L.G. Balfour Foundation, FleetBoston Trustee ($1 million); Liberty Mutual ($500,000); Massachusetts 2020 ($1 million); the Nellie Mae Foundation ($1 million); New Profit, Inc. ($500,000); United Way of Massachusetts Bay ($2.5 million); and Verizon Communications ($500,000).