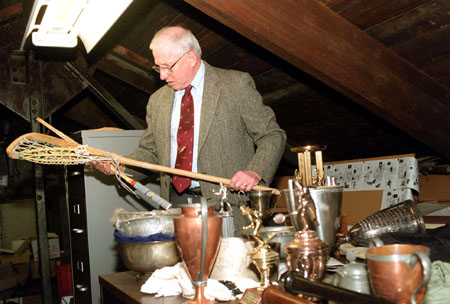 Photo by Jane Reed
"The challenge of collecting sports memorabilia at Harvard," says the Hall of Athletic History volunteer curator Warren "Renny" Little '55, "is that all the equipment is signed in and signed out, so no one ever thinks about keeping it." For Little – a Harvard athletics devotee since his track days – the task of assembling a "three-dimensional" collection of Harvard athletic artifacts to accompany the Murr Center's timeline mural, is further strained by eBay, neglected attics, and of all things, competition against specialty shops and local taverns. "A lot of these artifacts end up in bars in South Boston or in places like Leavitt & Pierce tobacco shop," he concedes.
Yet for the retired teacher, coach, and veteran museum conservator, the hunt for Crimson gold is a labor of love.
With no curatorial budget, the self-described "Smithsonian attic collector" has amassed stacks of old scrapbooks, programs, scorecards, photographs, banners, medals (including one from a 2-mile bicycle race in 1891), trophies, and uniforms (a complete baseball outfit from 1939 among them), that occupy every nook and corner of the Dillon Field House attic. Here in memorabilia limbo they await preservation, maintenance, and hopefully a brighter future. The sheer quantity of these items is daunting (with 42 major sports and 148 years of Harvard athletic history, there's an awful lot to be arranged). Little has filled an extra bedroom in his Cambridge home with such relics. "It's overwhelming," he confides. "My wife gets on my tail."
Yet for the past 15 years, Little's mission has remained unshakeable.
"In 1986 I volunteered to put together an exhibit for Harvard's 350th Celebration. While digging through Harvard's closets and attics I was appalled at what I found … just to see what happens when they're not taken care of," he says, not without a hint of frustration. Among the run-down items: broken trophies, water-stained certificates, curled photos, and perhaps most shocking, some of the oldest baseballs in the nation carelessly nailed and shabbily displayed. Startled by what he found, Little has been collecting and refurbishing these treasures ever since.
And although Little feels that he's "just scratched the surface," one only needs to look at those neglected turn-of-the century baseballs -now residing in an elegant maple case – to see that protecting the past is a beautiful thing.
Little invites those wishing to donate their Harvard athletic artifacts to contact him at (617) 491-3937 or renlittle@aol.com.
We serve the public interest! Interesting people, interesting jobs, interesting hobbies – we want them in the Big Picture. If you have an idea for the Big Picture, give us a buzz: thebigpicture@harvard.edu