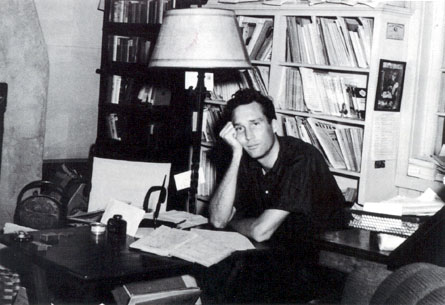 Of the many publishing houses and little magazines that sprang into existence in the 1920s and '30s, none was as adventurous or influential as New Directions, founded by James Laughlin in 1936 while he was an undergraduate at Harvard. New Directions published, among others, Ezra Pound, William Carlos Williams, Dylan Thomas, Jack Kerouac, Tennessee Williams, and brought quality translations of the work of foreign writers to the American public (including Hermann Hesse, Jorge Luis Borges, and Yukio Mishima). The publication also revived the work of neglected authors such as F. Scott Fitzgerald and Henry James.
"'Make it New!': James Laughlin and the New Directions Publishing Corp." is an exhibition at Houghton Library that includes manuscripts and correspondence of Pound, W.C. Williams, Henry Miller, Thomas, the Beats, Thomas Merton, Williams, Denise Levertov, and many other New Directions authors, all illuminating the often difficult, always lively relationship between writers and an editor who believed passionately in the importance of good literature.
The exhibition celebrates the completion of the cataloging of the New Directions Publishing Corp. archive and is drawn entirely from this important literary resource. The archive was a bequest to Harvard University from James Laughlin in 1997 and is the most important gift of modern literary materials Houghton Library has received thus far, putting it at the forefront of 20th century literary studies. The exhibition runs until Feb. 24, at Houghton Library, Harvard University, in the Harvard Yard.
In conjunction with the exhibit, a symposium titled "Towards the Meaning of James Laughlin" will be held on Friday, Feb. 9, at 4 p.m. in the Lamont Forum Room of Lamont Library.
The following participants will explore the nature of literary history and biography, and the role of the archival and oral record in constructing them:
Ian MacNiven, author of "Lawrence Durrell: A Biography," who has also edited the Durrell-Henry Miller and Durrell-Richard Aldington correspondence. He is now at work on a biography of James Laughlin.
Eliot Weinberger, translator, essayist, and critic, perhaps best known for his translations of Octavio Paz and his work promoting Hispanic literature in the United States. A New Directions author, he has been associated with the firm for more than 25 years.
Jonathan Williams, publisher and poet, whose Jargon Society has, for three decades, explored the fringes of American and British literary culture. He credits James Laughlin for much of his "literary madness."The secret to Laughlin's success was a network of writers whose work New Directions had published and whose judgment Laughlin trusted to augment his own. Their recommendations led Laughlin to other authors, as was the case with Ezra Pound, who recommended Henry Miller. Miller in turn recommended Hermann Hesse's "Siddhartha," the book that finally made the firm profitable, and T.S. Eliot recommended Djuna Barnes.

"What interested me above everything else in publishing," wrote Laughlin, "is the work of the unique individual who breaks away from the herd."