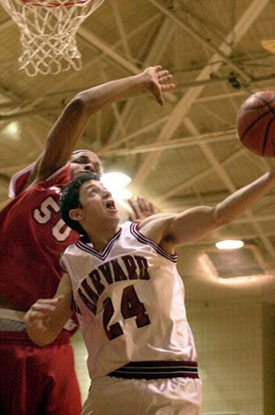 In their return to action following the break, the Crimson men's basketball team (10-6, 3-1 Ivy) staved off a late-game surge by the Hartford Hawks (4-15), eking out an 80-78 win this past Monday at Lavietes Pavilion. Sophomore guard Patrick Harvey's game-winning floater at the buzzer, his second game-winning shot for the Crimson this season, exemplified the drama-filled second half.
The Crimson were led by senior captain Dan Clemente's 20 points, Harvey's 14 point output, and freshman center Brian Sigafoos – who chipped in 12 points and 6 rebounds in just his second start.
Harvard increased their five point half-time edge to a 16 point lead with nine minutes left, inspired perhaps by the remarkable half-time show by the Watertown Youth Basketball League.
The need for last-second heroics hardly seemed possible. But in a game marked by 51 turnovers (20 of which were Harvard steals), hot shooting (over 50% for both teams) and wild play (including a spectacular press-table hurdle), momentum was apparently up for grabs.
And the Hawks grabbed it, cutting the Crimson lead to just four points in the closing minutes.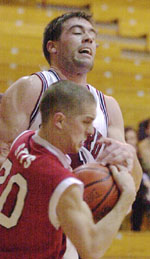 Coach Sullivan's team remained composed despite the Hartford rally, keeping some distance between themselves and the surging Hawks. In fact, it was Sigafoos' interior offense that may have made the difference.
With just 1:30 remaining, Sigafoos had three attempts directly below the basket, eventually connecting for two points and a six point Harvard cushion. Hartford stayed the course, however, responding with a 3-pointer, which trimmed the Crimson lead to three points.
The next play, Hartford's Keyon Smith stole the inbound pass only to miss the wide-open lay-up. Harvard was unable to connect on their next possession.
Then things got hairy. Hartford's Mantas Storpirstis was fouled on a 3-point attempt with 7.6 seconds left. Hitting all three of his free throws, Storpirstis tied the game for the first time all night.
It was to be short-lived, however, as time and Patrick Harvey were on Harvard's side.
Harvard returns to Ivy League play this weekend with games at Cornell on Friday (Feb. 2) and Columbia on Saturday (Feb. 3). The Crimson is 3-1 in the Ivies, a half-game behind League-leader Yale (3-0).