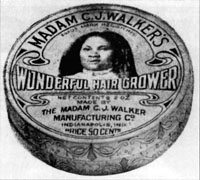 Born on a Louisiana cotton plantation in 1867, orphaned at 7, married at 14, and widowed at 20, Madam C.J. Walker eventually became the nation's first self-made female millionaire. A legendary figure in African-American economic history, the former laundress made her fortune by building a business empire based on hair products for black women.
Walker's great-great-granddaughter, A'Lelia Bundles '74, board president of the Radcliffe Association, was recently feted at a gathering to celebrate the publication of her biography of her remarkable foremother, "On Her Own Ground: The Life and Times of Madam C.J. Walker" (Scribner, A Lisa Drew Book).
The gala celebration at the Charles Hotel, hosted by the Radcliffe Institute for Advanced Study at Harvard and the Radcliffe Association, featured such luminaries as newly appointed Radcliffe Dean Drew Gilpin Faust; Evelyn Higginbotham, professor of history and Afro-American studies; Florence Ladd, former director of the Bunting Fellowship Program at Radcliffe; and Alvin F. Poussaint, professor of psychiatry at the Medical School.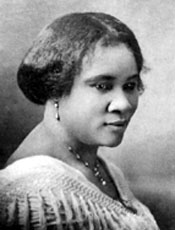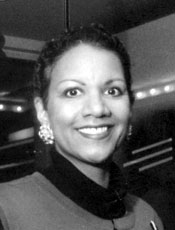 C.J. Walker A'Lelia Bundles