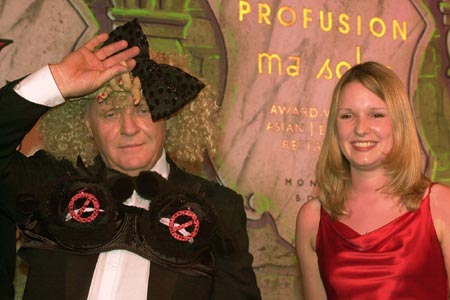 The stocky, shifty-eyed man wearing a tuxedo and a sly smile claimed it was a case of mistaken identity, but the audience knew better.
"People think I'm Hannibal Lecter, but I'm not," said Hasty Pudding Man of the Year Anthony Hopkins. "I'm just an actor doing my job."
The versatile character actor, whose screen roles have included Pablo Picasso, Richard Nixon, C.S. Lewis, Adolph Hitler, John Quincy Adams, Captain Bligh, and Yitzhak Rabin, proved himself a good sport as he hammed it up with seniors Ben Forkner and Suzanne Pomey, the producers of this year's Hasty Pudding theatrical "Fangs for the Memories." The event took place last Thursday night, Feb. 15.
After calling Hopkins up onstage, Forkner announced that he had some bad news for the actor, then called on Pomey to break it to him.
"Ben, I can't. I'm afraid he might eat my face," Pomey whimpered as Hopkins walked menacingly toward her.
Forkner finally screwed up his courage and confronted Hopkins directly, "I'm going to be brutally honest with you," he said. "We're not sure you're fit for the Man of the Year award. We put on a bawdy drag show and you seem very stodgy and English. We'd like to test your versatility as an actor."
Hopkins was asked to deliver the speech from his 1991 hit film "The Silence of the Lambs" in which he calls Jodie Foster "a rube" with "a good bag and cheap shoes," but he had to do it in the voices of Nixon, Marlon Brando, Sean Connery, and Jack Nicholson. Hopkins did a very creditable job with each of these impressions, while the audience roared its approval.
Next, as a knight, Hopkins was required to wield a plastic sword and rescue Pomey from a young man in a bright green dragon suit, a feat he accomplished handily, topping it off by pretending to carve a piece from the dragon's back and pop it in his mouth.
When Pomey complained that she had never seen Hopkins play a romantic lead, he surprised her by grabbing her in his arms and giving her a long kiss on the lips.
Hopkins' next test was playing the balcony scene from "Romeo and Juliet." Forkner, standing on a chair, played Juliet.
Hopkins, wearing a floppy feathered cap, stumbled through the first few lines, then stopped. "Who wrote this crap?" he exclaimed. "This isn't Shakespeare. What is this rubbish?"
A test of Hopkins' ability as a "method actor" followed. A hooded figure limped onstage pushing a cart loaded with amputated human body parts. "I am not an animal. I am a human being!" the hooded figure cried, a line from "The Elephant Man," the 1980 film in which Hopkins portrayed Dr. Frederick Treves, who cared for the hideously deformed John Merrick.
"Well, I'm a vegetarian," Hopkins quipped, without missing a beat.
Nevertheless, Hopkins was forced to eat a spoonful of some substance purported to be human brains.
Then came the highlight of the roast when two large young men came onstage wearing preposterously padded dresses and fitted Hopkins with a blond wig and a brassiere in the shape of two muzzled dog heads fashioned from black velvet. Hopkins' inspired response to this humiliation was to break into a breathy rendition of "Happy Birthday to You," an imitation of Marilyn Monroe's famous tribute to John F. Kennedy.
The presentation of the Pudding Pot followed. Hopkins thanked his hosts for the honor, remarking that his own school career had been a disaster and it was an irony that he had been asked to come to Harvard.
Later, at a brief press conference, Hopkins, who was born in Wales, was asked why he recently became an American citizen.
"I've lived here some years. I feel at home in America. I suppose it was a pretty bold decision, but America has been very generous to me. There was a bit of an outburst in the British press. I was branded as some sort of turncoat, but so be it."
Asked whether he was surprised by the box office success of his new film "Hannibal," a sequel to "Silence of the Lambs," and whether he thought there would be a third Hannibal Lecter film, Hopkins replied that he was very pleased that film has been successful.
"But I don't want to jump on some exploitative bandwagon. If it happens, it happens. Life's more important than thinking about movies all the time."