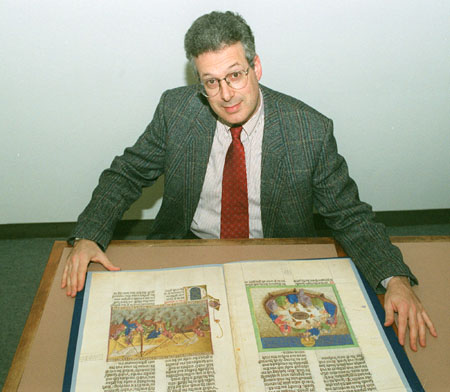 Jeffrey Hamburger remembers the moment he fell in love. It happened in the rare book library of Yale University.
The object that captured his heart was an illuminated manuscript known as "The Rothschild Canticles." He was leafing through the library's card catalog, on the lookout for a Ph.D. dissertation subject, when the book's description caught his eye. He asked for it at the desk, and a few minutes later the exquisite late 13th century manuscript was in his hands.
"It was love at first sight. I asked if anyone was doing a dissertation on it, and the answer was no."
Hamburger set to work, earning his Ph.D. from Yale in 1987. In 1990, the rewritten dissertation became his first published book – "The Rothschild Canticles: Art and Mysticism in Flanders and the Rhineland circa 1300" (Yale University Press, 1990).
Last year, Hamburger joined the Faculty of Arts and Sciences as a professor in the history of art and architecture. Yve-Alain Bois, the Joseph Pulitzer Jr. Professor of Modern Art, who chaired the search committee that selected Hamburger, had high praise for his colleague's scholarship.
"Not only is his prose entirely devoid of jargon, but one can always sense a burning passion for his object of inquiry. His knowledge of texts is phenomenal, but it has not blinded him. This is rare, and it accounts for the unusual success of what he modestly calls serendipity in his work. In other words, if he so often stumbles upon extraordinary images, it is because he has developed the eyes to see them."
In profile: Jeffrey Hamburger
---
Born: Born: Feb. 9, 1957
Education:
B.A. summa cum laude, Yale College (1979);
M.A. Yale University (1982); Ph.D. Yale (1987)
Career highlights:
1986-1997 Oberlin College (instructor, 1986-87; assistant professor, 1987-91; associate professor, 1991-92; Irving E. Houck Associate Professor in the Humanities, 1992-97);
University of Toronto (associate professor, 1997-98; full professor, 1998-2000)
Selected publications:
"The Rothschild Canticles: Art and Mysticism in Flanders and the Rhineland circa 1300" (Yale University Press, 1990);
"Nuns as Artists: The Visual Culture of a Medieval Convent" (University of California Press, 1996);
"The Visual and the Visionary: Art and Female Spirituality in Medieval Germany" (Zone Books, 1998);
"St. John the Divine: The Deified Evangelist in Medieval Art and Theology" (University of California Press, forthcoming).
Each of Hamburger's three published books have won two major academic prizes.
That moment of intense response in the Yale library not only gave Hamburger a dissertation subject, it also provided him with two important areas of future research: mysticism and the visual culture of female monasticism.
Medieval art by and for women is a subject he finds interesting and compelling, not only from a feminist standpoint, but also for what it tells us about notions of aesthetics and representation in the Middle Ages.
Hamburger found that while there are relatively few extant texts from that period that have anything to say about what people felt while looking at an illuminated manuscript or a stained glass window, there are many discussions of imagery in the medieval literature of female monasticism. Hamburger wondered why that was.
His answer, in part, has to do with the fact that medieval thinkers associated man with the intellect and woman with the body and the senses. Thus, women were associated with images because they were believed to need them in order to apprehend religious concepts.
"But women also developed their own, independent ways of seeing," Hamburger pointed out.
Hamburger believes that "The Rothschild Canticles" was created for a wealthy, high-born woman with a sophisticated understanding of mystical theology and visionary experience.
"The book is meant for someone who has a high degree of knowledge. It takes a lot for granted. It makes a direct appeal to the eye and it seeks to initiate you into mysteries, not just explain them to you."
Hamburger's second book further explored the relation between women and religious imagery. In "Nuns as Artists: The Visual Culture of a Medieval Convent" (University of California Press, 1996), he looked at devotional drawings made by Benedictine nuns in the 15th century, a body of work that had been largely unexamined by art historians.
Now he and fellow art historian Robert Suckale of the Technical University of Berlin are preparing an exhibition of this art at the Kunsthalle of the Federal Republic of Germany in Bonn. After eight years of trying to convince the German authorities that such an exhibition was worth doing, Hamburger hopes that the show will open people's eyes to the significance of this work.
"There's a preconception that art made by and for nuns is bad art, that it's crude, artless, not exhibition-worthy. But taken on its own terms, it becomes immensely rewarding as an object of historical study."
Hamburger hopes that by presenting a complete cross-section of works in various media from the eighth through the 15th centuries, the exhibition will draw other scholars into the discourse.
"It will be an invitation to others to join in," he said.
Another of Hamburger's interests is the relationship between medieval art and theology. He sees a tension between the two fields that neither artists nor theologians could ever adequately resolve.
The tension arose from the biblical injunction against making "graven images" and the association of such images with idolatry. At times, in fact, this tension rose to a fever pitch and there were outbreaks of iconoclasm, the destruction of artworks.
But the Ten Commandments were not the only biblical text that pertained to the arts. Some writers described the building of the ark of the covenant as an example of divinely sanctioned craftsmanship, and medieval craftsmen often compared themselves to Bezalel, the creator of the ark.
Another significant text was Paul's Epistle to the Romans 1:20, which asserts that "the invisible things of him from the creation of the world are clearly seen, being understood by the things that are made, even his eternal power and Godhead." One of Hamburger's current projects is tracing the interpretation of this text from Roman times through the Reformation, to show how it was used to justify the creation of artistic works.
Hamburger believes that the tension around religious imagery can be seen in the artworks themselves.
"Some medieval works of art have built-in stumbling blocks to prevent viewers from identifying themselves with the subject. Why don't medieval works of art look more lifelike? It isn't just because they're symbolic, but because they're engaged in a sophisticated effort to seduce viewers and yet keep them at a distance. The artwork had to ward off charges of idolatry even as it represented the invisible."
The son of an American father and a German refugee mother, Hamburger was born in London, where his father, a historian of political philosophy, was spending his sabbatical year. He did not develop an interest in medieval art until his senior year at Yale, when he took James Marrow's course on late medieval German painting.
"It was exciting and intellectually rigorous, and it changed my life – although my parents wondered what a nice Jewish boy was doing studying Christian art."
In fact, Hamburger points out, some of the greatest names in the field have been Jewish, for example Erwin Panofsky and Meyer Shapiro, to name two.
"Someone once said that much of art history in America consists of Jews teaching Protestants about Catholicism," he quipped.
But Hamburger justifies his choice of a scholarly area from a more serious viewpoint as well.
"I would hate to think that we can only study what we are, that we always have to play identity politics. If we can be interested only in where we come from, then history becomes a sort of narcissism, with no possibility of ever getting out of our own skin."
Contact Ken Gewertz at ken_gewertz@harvard.edu