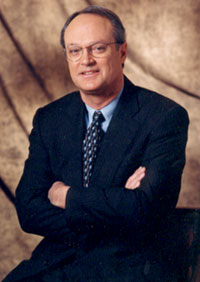 Marshall N. Carter, retiring chairman and CEO of State Street Bank and Trust Co., will become a resident senior fellow at the Kennedy School of Government's Center for Business and Government (CBG) beginning in February. "Marsh Carter has been an extraordinary leader in both business and government," said CBG Director Ira A. Jackson, who made the special midyear appointment. "He represents the best of both worlds and combines enormous success and confidence in markets, with a deep and abiding commitment to public values.
"Marsh has succeeded admirably in the technology-driven world of global finance and banking, and he has made substantial contributions to the public sector as a military officer and government employee," Jackson added.
During Carter's tenure, State Street grew assets under custody to $6.2 trillion, assets under management to $712 billion, and enjoyed a compound earnings per share growth rate of 17 percent, increasing its business base from 32 to 90 countries. Adopting a new global strategy that significantly broadened its product line and use of information technology, State Street tripled the size of its business during this period, emerged as a dominant global player in the world of financial asset servicing and management, and increased its market capitalization from $2.3 billion to $21 billion.
Carter, 60, a graduate of the U.S. Military Academy at West Point, holds a master's in operations research and systems analysis and a master's in science, technology, and public policy. He served for 14 years as an officer in the Marine Corps and was awarded the Navy Cross, Bronze Star, and Purple Heart during two years' duty in Vietnam. Carter was a White House Fellow in 1975-76 at the State Department and the Agency for International Development. In 1996, he co-authored "Promises to Keep: Saving Social Security's Dream."
As a senior fellow at CBG, Carter will become an integral part of the center, joining 90 faculty members, fellows, and staff who conduct research and teach at the intersection of the public and the private sectors, and who engage in outreach activities designed to spur market-driven economic growth while promoting public values and strengthening democratic political institutions.
Carter intends to focus on research and teaching in leadership, information technology, and pension reform, and will also participate actively in a number of CBG conferences, including one this spring on entrepreneurship, innovation, and public policy.
In its mission to foster new ways of thinking about the complex interrelationship between the business and government sectors, the Center for Business and Government conducts groundbreaking policy-oriented research, develops innovative curriculum and promotes public understanding by convening business practitioners, scholars, policy makers, civic leaders, and members of the media to discuss critical issues related to the central issues at the intersection between business and government.