"How are we going to give people salary increases? How are we going to pay rent increases? How are we going to pay health insurance premium increases? How are we going to afford computers and all the technology needs?"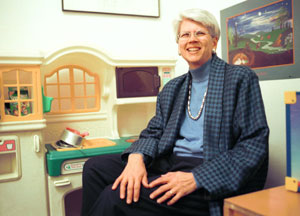 Those are the concerns voiced by Susan Ayers, the Center's executive director. She says the agency, previously known as Center Inc. before it merged with the Cambridge Mental Health Association three years ago, is now the largest of its kind in the area. It serves about 2,000 children every year through early intervention, on-site and school-based counseling, home visits, a family after-school program, intensive family intervention and support, supervised visitation, and respite services for families with children who have developmental disabilities.
"Our steady funding streams give us the financial base [that we need]," Ayers says. "But if they don't recognize the cost of inflation and the cost of doing business, then where do we go for dollars? Well, we go to the donors."
Those donors include the people who participate in the Community Gifts Through Harvard Campaign 2000. Pledge packets were distributed to all University employees last week. Would-be donors have until the end of the month to respond.
"The private donor dollars through the Harvard Campaign are critical because they give us the flexibility we need to be able to provide services to kids and families," Ayers explains. "Unlike certain contracts that come with strings attached, donor dollars can be used to plug the gaps."
And there are many gaps to plug, according to Ayers – gaps wide enough to seriously impact the lives of thousands of low-income and immigrant children and families in the area.
"Most of the families we work with are very, very challenged," Ayers contends. "Usually the parents have been survivors of their own personal traumas. Often they have been disadvantaged in their upbringing, and made some bad choices in their lives. They end up having children earlier than they should have. They probably dropped out of school because of that, and they probably haven't had much of a care-taking environment themselves."
Outreach workers provide a range of services to clients depending on their personal circumstances. Some children are enrolled in Cambridge Head Start classrooms. Others attend therapeutic after-school programs. Those with more pressing needs meet with mental health counselors at their homes or in their schools. The bottom line, according to Ayers, is providing a "continuum of service" for those children and families who need it, with an emphasis placed on early intervention.
"Parents often know that their children have troubles early on," Ayers explains. "The research really shows that kids are often 8, 9, or 10 years old before they get the services they really need. … If we can identify families and problems early, … we are able to get them hooked up on the continuum sooner."
As an example, Ayers recounts the story of a local Spanish-speaking family, whose two young daughters began losing sleep and having trouble in school after being involved in a serious car accident. The parents and children met with a clinician to talk about their worries, and the children took part in some play therapy to help them conquer their fears. After several weeks, the problems subsided, and the girls are now doing much better.
Another example involves a local teenager who was removed from a dysfunctional household when she was 15 years old. The girl was placed in foster care, but was able to maintain contact with her parents while taking part in weekly therapy sessions. Later, she ended up going to college.
"We really want to help kids and families be able to grow and develop healthy strong-rooted relationships among each other as a family, and in the community too," Ayers explains. "We work directly with about 2,000 kids a year, but we reach many more than that indirectly. Thousands of other kids' and teachers' lives are impacted [by our work]." The impact of the agency's work is what initially captured the attention of Daniel J. Meltzer, Story Professor of Law at the Law School, now in his fifth year on the board, and second as president of the board of directors at The Guidance Center.
"A lot of what they do is in the nature of preventative services, and that's very important," Meltzer says. "The early intervention program for kids 0-to-3 – getting services to children that age and getting them on the right path – is not only wonderful for the children and their families, but also an enormous saver of resources down the road for society."
Meltzer is also impressed with the fact that the center has kept its administrative overhead to less than 14 percent of its overall budget. "This is a remarkably well-managed agency, both on the programmatic side … and also on the administrative and financial side, and that's critically important because we are heavily dependent on state and local funding. That funding has not been increasing with the rate of inflation … so we have to be very lean with the money we do have and do a good job also of supplementing it with fundraising dollars."
And that's where the Community Gifts Through Harvard Campaign 2000 comes in. Employees can opt to contribute directly to The Guidance Center by filling out their green pledge card. The Guidance Center also receives funding through the United Way contributions pledged on the red card.
The campaign continues through November.
To make a donation to The Guidance Center, or any other charity, simply designate the charity on the green charity-of-my-choice pledge card contained in the Community Gifts Through Harvard package and return the card to your local keyperson.