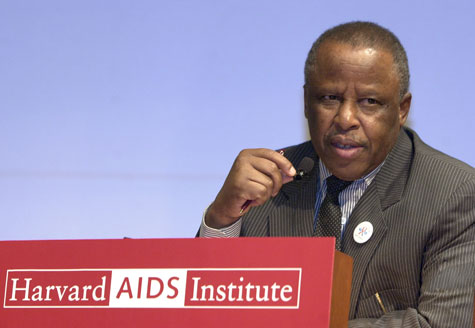 "It is a matter of survival. Whatever action is feasible now must be taken now because there may be no tomorrow."
Those haunting words were delivered by Republic of Botswana President Festus Mogae at the culmination of "Africa Now! A Leadership Summit to Define African Priorities for AIDS" held in Cambridge earlier this week. More than 170 government and health officials from 24 different countries attended the three-day meeting, which was the first of its kind held on U.S. soil.
An especially virulent strain of the AIDS virus has taken hold in sub-Sahara Africa in recent years, decimating local populations. According to Dr. Max Essex, chairman of the Harvard AIDS Institute, which co-sponsored the summit, more than 70 percent of all new infections in the world occur in that region. In Botswana, approximately 35 percent of people between the ages of 18 and 49 are infected.
"It might have been permissible to believe that the virus would get rid of itself or would mutate itself into harmlessness or that some other miracle would happen," Mogae said, "but after 15 years we know enough that it is no longer permissible to ignore, either by us Africans or by the international community."
African leaders are seeking immediate financial assistance from the United States and other developed nations to help stop the spread of the virus and to treat those suffering from the disease.
"It is really important now to address this issue. With more than 23 million people living with HIV/AIDS in Africa, care is becoming a real issue," said Awa Marie Coll-Seck, director of the Department of Policy, Strategy, and Research at the Joint United Nations Programme (UNAIDS) on HIV and AIDS. "We really need to mobilize resources at the international level … to support Africa to act now."
Conferees voted unanimously to approve a "Principles of Collaboration" document calling for Africans to take the lead on the issue, pushing for "sustainable solutions" to battle the epidemic, and urging the creation of partnerships to "benefit the public health and well being of individuals within each African nation."
Essex believes the document will garner attention from government leaders in the United States and around the world. "I think that because we now have a written document they will certainly get the message," he said. "This message will also be carried to a summit of African leaders in Addis Ababa [Ethiopia] in early December. I have no doubt that the message of this meeting will be carried forth."
That seems to be the shared vision of all summit participants, many of whom have seen firsthand the devastating impact of AIDS on their communities.