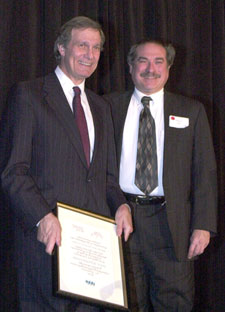 As President Neil L. Rudenstine completes his final academic year at Massachusetts Hall he continues to build the legacy he will leave behind. A pillar of that legacy will be the University's efforts to support affordable housing in Boston and Cambridge.
Those efforts were recognized by the Citizens' Housing and Planning Association (CHAPA) during its annual awards banquet last Tuesday night, Nov. 21, at the Copley Marriott in Boston. Rudenstine was presented with CHAPA's Special Recognition Award for 2000.
"When Neil Rudenstine took over the presidency at Harvard in 1991, he set about not only building the institution but also rebuilding its relationship with its host communities," said Mathew Thall, director of the Boston office of the Local Initiatives Support Corporation (LISC), during the award presentation. "Remarkably, much of the way he has reached out to his host communities has been through housing."
Thall highlighted the University's commitment to house more of its graduate students on campus and to sell 100 formerly rent-controlled housing units for rehabilitation at below-market rates, but he called Harvard's 20/20/2000 initiative the "coup de grace" in its affordable housing strategy. The initiative provides $20 million in low-interest loans to help community organizations purchase and renovate affordable housing units in Boston and Cambridge.
"This [program] is unprecedented," Thall said. "I can assure you that the projects that are being financed with this money would not happen but for the terms of the Harvard loan."
Rudenstine called Harvard a "minor partner" in helping solve the affordable housing crisis in the region, but he reaffirmed the University's commitment to the issue. "We're in it for the long run," he said. "We want to help as much as we can."