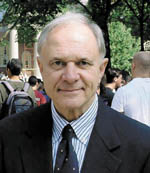 When Arkansas Senator David Pryor packed his bags, sold his home, and departed Washington in 1996 after more than 30 years in public service, he didn't think twice about leaving. "I enjoyed my time in the Senate," he says. "I loved my colleagues, but it was time for me to move out and have another life."
It didn't take long for that new life to take shape.
Pryor and his wife Barbara immediately returned home to Arkansas, where he pursued his academic ambitions, serving a brief stint as a Fulbright Distinguished Fellow of Law and Public Affairs at the University of Arkansas in Fayetteville and spending a semester as a resident fellow at the Institute of Politics (IOP) at the Kennedy School of Government (KSG).
Now Pryor has returned to Harvard, this time as IOP director, succeeding another former senator, Alan Simpson, who stepped down last spring.
As director, Pryor will oversee all of the IOP's activities, including the celebrated Forum series, which brings prominent statesmen, journalists, scholars, and political professionals to the Institute to discuss and debate a range of topical issues. The director also assumes responsibility for the resident fellows program, student study groups, debates, and symposia. In essence, Pryor will guide the Institute's agenda through the 2000 presidential campaign and beyond.
The affable gentleman from Arkansas chuckles as he considers his predicament. "Here I am, drawing Medicare and Social Security, and I've just moved into a dormitory with 500 students," he says.
Pryor isn't kidding. He and his wife Barbara are actually living in an apartment in Quincy House, just a five-block walk to his office at the KSG. It's not Capitol Hill by any means, but for Pryor, the opportunity to live and work at Harvard is a daunting and fascinating challenge.
"This is a unique institution. There is nothing else like it in the world. It stands alone," he says. "There is an energy here that's unequalled, and just to be able to sit here, you feel like you're sitting on top of a volcano everyday because there's so much to do. I've told people that I feel like a hummingbird going from flower to flower sipping the best nectar. This is just fabulous what we have the opportunity to participate in here at the Institute."
The IOP was established in 1966 as a living memorial to former President John F. Kennedy '40 and is dedicated to the mission of inspiring undergraduates to enter politics and public service, as well as to promote greater understanding and cooperation among the academic community, politicians, and policy-makers. Although the Institute does not offer formal courses or class credits, it encourages student participation in study groups, discussion panels, and forums.
"My impressions are that this is a fairly complex place," Pryor says. "You've got the Kennedy School. You have all the programs within the Kennedy School. You have an enormous staff, and you have a reservoir of resources, information, and knowledge.
"Where else will people like John Kenneth Galbraith fall into your office and sit there for 30 or 40 minutes?" he asks. "It's sort of an unbelievable existence for those of us who like public service, politics, and the history of our system, and who have any hopes for its existence."
Pryor, who was first elected to public office in Arkansas in 1960, the same year Kennedy was elected to the White House, maintains that he has great hopes for the nation's political system despite a certain sense of disillusionment, particularly among younger Americans, that has intensified in recent years. "I'm very high on this generation," he says. "I believe this generation is so smart and so aware. They're very with it, and I'm impressed."
Recent surveys, however, reflect the significant toll taken by Vietnam, Watergate, and a host of recent scandals in Washington. Voter turnout among college-age Americans has fallen to 15-20 percent, a figure that causes Pryor much consternation. "It's very low, and it's depressing," he says. "We're finding that young students and young people do want to give back. They want to be involved in community service, but they don't know that politics is the way that they can implement change."
Making politics more engaging and interactive may be one way to get more young people involved in the process. Registering new voters is another. The IOP is spearheading an effort to do that. Pryor recently joined a group of KSG students registering fellow students in Harvard Yard. "I think we've been able to register almost a third of the freshman class," Pryor says. "We want to make Harvard the number one college and university in the percentage of 18- to-21 year olds who are going to be participating in the election."
Richard Cooper '01, vice-chair of the IOP student advisory committee, was impressed with Pryor's participation in the voter registration drive. "He was up there in the Yard, talking with the incoming freshmen … It was a wonderful, hands-on, energetic way to go about it, and it made all the freshmen feel welcome, and it made the voter registration process more fun," he says.
Experiences like that, Cooper says, are what distinguish the IOP as an extraordinary institution. "That's probably why I like this place the most," he explains. "It's a constant source of inspiration that really makes you appreciate and respect public service and public servants more and more each day."
Keeping the IOP accessible for all students at Harvard is Pryor's hope as he begins his work here. "I do think that Alan Simpson started something that I want to build on," he states. "I want there to be more sharing of the Institute and its resources with other parts of the Harvard campus … I want us to be more inclusive in encouraging people, particularly undergraduates, to participate in IOP.
"I want there to be an open invitation for people to come to the study groups and the forums, and to participate in all the wonderful opportunities that are available here. They will never have that chance again."