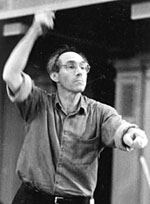 Waging a peaceful celebration
In celebration of Women Waging Peace, a Kennedy School program, there will be a concert on Monday, Nov. 6, at 7:30 p.m. in Sanders Theatre. With Charles Ansbacher conducting, the concert will feature the Boston Mozart Orchestra and the Tanglewood Festival Chorus performing Beethoven's Symphony No. 9.
Tickets are $12-$26 for adults and $6-$13 for students and senior citizens. Tickets are available through the Harvard Box Office at Holyoke Center or call the box office at (617) 496-2222.
---
Lander gives Genome lecture
Eric S. Lander, professor of biology at the Massachusetts Institute of Technology and director of the Center for Genome Research at the Whitehead Institute, will give a lecture titled "The Human Genome and Beyond" on Nov. 9 from 4 to 5:30 p.m. in auditorium G-1 of the Kresge Building at the Harvard Longwood campus.
As a geneticist, molecular biologist, and mathematician, with research interests in human genetics, mouse genetics, population genetics, and computational and mathematical methods in biology, Lander and his research group have developed many of the tools of modern genome research. He has applied these techniques to the understanding of cancer, diabetes, hypertension, renal failure, and dwarfism.
---
HMNH seeks volunteers
The Harvard Museum of Natural History is looking for people who are enthusiastic about natural history to volunteer one morning or afternoon a week as a gallery guide. By encouraging adult and children visitors to touch and learn about the museum's exhibits and artifacts, gallery guides act as the interactive and interpretive link between the public and the museum. For more information call (617) 495-5782.
---
Correction
In an article about Dan Boyne's book, "The Red Rose Crew," in the Oct. 19 Gazette, a reference was made to the 1972 education legislation called Title IX. In the article, Title IX was incorrectly identified. We regret the error.